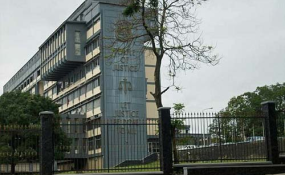 Photo: The New Dawn
President George Weah Wednesday nominated Sinoe County Senator, Joseph Nagbe to replace retired Justice Philip A. Z. Banks as Associate Justice of the Supreme Court of Liberia.
Hours following his preferment, the long serving lawmaker promised to do a 'great job' telling reporters he will be one of the best Supreme Court justices ever recorded in history.
"Rejecting this nomination by the president would mean, I am not qualified to do what the President sees in me," he said.
"I have the competence and I can assure Liberians that I will be one of the best lawyers on the Supreme Court Bench.
"I am going to interpret the law by myself and in accordance with the law.
Senator Nagbe has been a member of the legislature since 2004 when he served as member of the National Transitional Legislative Assembly and subsequently elected twice as senator. He holds university degree in History from the University of Liberia where he also studied Law.
- Alex Yomah