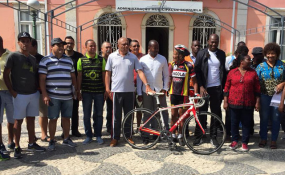 Photo: Angop
Benguela — The veteran cyclist Alberto da Silva "Pepino" died Saturday at the general hospital in the coastal Benguela province, victim of a respiratory failure, ANGOP has learnt.
According to the spokesman of the general hospital, Aldemiro Cussivila, the veteran was admitted Saturday in the hospital after being diagnosed with cardiovascular disease.
The day for the funeral of veteran cyclist Pepino is still to be decided by the family, according to the provincial department of sports.
Recently, the veteran of Benguela, pedaled 34 kilometers in 1: 44: 38 seconds, on the course Benguela-Talamajamba, to celebrate the 57 years of the beginning of the Armed Struggle.
In 2015, at the age of 92, he pedaled 40 kilometers on the same route in 1:19 minutes, in honour to heroes of February 4, 1961.