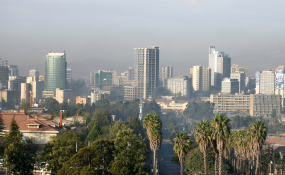 Photo: Addis Fortune
By Tewodros Getachew
The Airlines ' five star hotel
ADDIS ABABA- The first phase of the Ethiopian Airlines five star hotel that is under construction will be completed and start operation within two months time, the Airlines Group CEO Mr. Tewolde Gebremariam announced.
The group CEO said when the first phase of the hotel begins service ,it can accommodate 373 cozy rooms, which makes it the leading hotel in the country. the hotel has two objectives, which is accommodating transit passengers and promote stop over tourism,he added.
Meanwhile, the national flag carrier, Ethiopian Airlines disclosed that it has earned a record net profit of 6.8 billion Birr (233 million USD) in the past 2017/2018 fiscal year.
it was learnt that the airline opened eight new international destinations and 14 new aircrafts which makes it 100th aircraft in service milestone during the year. it has also transported a record 10.6 million passengers to more than 116 destinations in international and domestic flights.
Moreover, the airline announced that as part of its allegiance to African aerospace industry it has acquired a 49 percent share of Guinea and Chad airlines and 45 percent of the Zambian airline while takeover the overall management of Malawi, Equatorial Guinea and Mozambique airlines.
It is to be recalled that the airline also proclaimed that during the fiscal year, the airline was given for the first time in history a 4 star rating by SKYTRAX, the leading customer service rating organization in the airline industry, putting it on par with other global airline. SKYTRAX also recognized Ethiopian airline as best airline in Africa, best business class in Africa and best economy class in Africa.