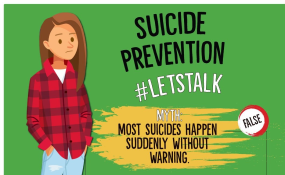 Photo: WHO
By Naisola Likimani
Two facts from the World Health Organization that may shock you:
1. Depression is the third leading cause of illness and disability among adolescents ages 10-19, and
2. Suicide is the third leading cause of death in adolescents ages 15-19.
Shocking, right? These are global statistics, but they hold true for lower- and middle-income countries as well.
ADOLESCENT MENTAL HEALTH
The reason many of us are shocked by this is that we rarely hear about adolescent mental health as an issue. For many years, as a matter of fact, we rarely heard about adolescent health at all. It fell somewhere between the cracks of childhood and adult health concerns.
The global health community has since turned the tide, and there is now an increased focus on this unique and often vulnerable demographic. This has led to more research and public health interventions particularly on the sexual, reproductive and maternal health of adolescents. We now know that the top cause of death globally of teenage girls ages 15-19 is complications from pregnancy and childbirth. Horrifying, yes.
CHILD MARRIAGE
We know that adolescents are less likely to know their HIV status than older adults. There are major international conferences discussing the implications of child marriage and female genital mutilation, and the need for comprehensive sexuality education and contraceptives for young people.
Investments in adolescent sexual and reproductive health are on the rise. Given that adolescent sexuality still elicits head-in-the-sand reactions from our society, this level of attention is necessary and must be maintained until we see an end to the preventable illnesses and deaths.
But where is mental health? Given the prevalence of depressive disorders in teens, it is conspicuously, and dangerously, missing.
Could it be that our society so misunderstands and trivialises the adolescent experience? The rebellious/sullen/volatile/reclusive archetype still comes to mind when many think of teenagers. Puberty, hormones and all that. Adult society seems to have little patience for this special time in life in the first place, let alone indulge talk of depression or anxiety.
SOCIAL MEDIA
Is it because mental health issues are already so stigmatised? Families and communities often fall back on religion or culture to explain away mental illness. And forget about talking about self-harm publicly - that's only something you'll hear about through the grapevine. Lately, though, a few young people have bravely shared their experiences on social media, giving voice to countless others.
Could there be a perception that being poor or working-class is incongruous with mental health problems? Many consider depression and other disorders to be "rich people problems". The rest of us are too consumed with the business of survival, dodging communicable diseases, just trying to get access to clean water, sanitation, education and jobs.
Could it be economic? Mental health issues require professional, sometimes long-term care. Are policy and budget makers making an economic choice not to integrate mental healthcare into primary health?
Interestingly, mental health disorders usually start in late childhood or adolescence, and then persist into adulthood, where they continue to cause illness and disability. Therefore, economically, it actually makes little sense to dismiss them at the onset.
NEGLECT
There could be many other reasons for the continued neglect of young peoples' mental health. Nonetheless, we continue to do this at our own peril. It's time we took the newfound focus on adolescent health to the next level. In fact, it is way past due.
Sexual and reproductive health and justice are key, but they cannot be addressed in isolation. We must design public health and social interventions that appreciate the full personhood of adolescents.
There is still so much we don't know about the links between mental health and other issues associated with adolescence such as drug and alcohol abuse, interpersonal violence and gender-based violence.
We need to research the drivers of mental health issues in adolescents, collect gender and age disaggregated data and design a holistic response.
Most importantly, we need to remember that health is not just the absence of disease, but the presence of complete physical, mental and social well-being. Adolescents deserve this ideal too. In fact, I would argue, if we care about the mental health of our society as a whole, they deserve this most.
The writer is a policy specialist in gender equality and sexual and reproductive health and rights. She writes here in her own capacity.