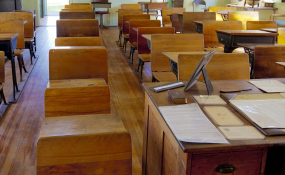 Photo: Lisa Baird/Pixabay
By Usman A. Bello
As part of efforts to improve basic education, teachers in Edo State are said to be attending training courses to update their skills and meet the learning and teaching needs of pupils.
A total of 5,000 primary school teachers are undergoing the training sessions under the Edo Basic Education Sector Transformation (Edo-BEST) initiative, started by Governor Godwin Obaseki.
The teachers, drawn from select schools across the state, are being trained in groups.
The initiative, Daily Trust gathered would be an opportunity for primary education to get quality training using correct methods and practice.
The training exercise came on the heels of the success recorded in a previous programme where 2,000 teachers were trained on the use of handheld digital devices for teaching.
Daily Trust learnt that at the end of this exercise, the government would have equipped 7,000 teachers with digital devices including smart phones for head teachers for greater effectiveness.
One of the teachers, Ojeifo Grace in Orele Primary School, said the training exposed her to new teaching methods and how to adjust to bring out the best in students.
"We have been trained on how to teach children adequately and track their assimilation; how to ask questions to get quick response from students; how to commend them in areas they did well and how to make them do better when they go wrong.
"I have come to realize that it is not by bully or shouting at students that they will perform well. Also, I have learnt that leadership by example can ignite pupils' interest in learning. I was employed in 1998 and this is my first professional training and it has exposed us to things we didn't know before."
She called on the governor to make the training a continuous one as teachers who are yet to be trained see themselves as underdeveloped.
On his part, Ibrahim Lasisi said the beneficiaries were equipped with innovative teaching methods that bring dull concepts to life with practical experience.
Lasisi, who teaches at Ugbobo Primary School, Igarra, Akoko-Edo Local Government Area, said the exercise would enhance teachers' ability to deliver qualitative education to pupils.
"We have been given devices that we can use to teach the pupils while government has moved further by providing modern text books for the pupils," he said.
Mrs. Tomo Elizabeth said though she had attended professional skills development trainings in the past, this exercise was different for the fact that she acquired child-centered teaching approaches. She said newest methods of teaching would improve the quality of education in the state.
She said the training would make public schools the best choice for children because new digital methods of teaching adopted would certainly yield positive results.
"I was trained five years ago but it wasn't like this. This is actually a training that will benefit the teachers and the students. In the past, we attended trainings just for the financial benefits but in this one, we are gaining knowledge."
Another teacher, Precious Omoghibo from Ujelu Primary School, Igueben Local Government Area, said the exercise came when education in the state needed total overhaul.
"The modern ways of teaching acquired, will bring total change in the education sector.
"The training will benefit the students in the area of learning because teachers have learned new ways of making classrooms conducive for them to learn," he said.
According to him, teachers are in high spirits and called on the government to organize similar exercises at least once or twice a year.
Meanwhile, the Acting Chairman, Edo State Universal Basic Education Board (SUBEB) and Special Adviser to the Governor on Basic Education, Dr. Joan Osa Oviawe, said the training brings to 7,000, the number of primary school teachers trained on modern techniques.
She said, "With the training, we would have successfully migrated about 190,000 pupils onto a new teaching method that is learner-centered, nurturing and teaching without corporal punishment.
"By September 2018, 62% of the 1,200 public primary schools would be in the Edo-BEST Programme. We are also striving to renovate and construct of over 230 primary schools across the state."
She explained that the programme would be expanded to cover kindergarten to primary six teachers.
Dr. Oviawe said in addition to teacher training, head teachers would also be trained on school management with a view to instilling a strong maintenance culture in public schools.