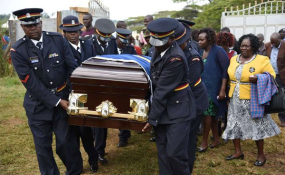 Photo: Jared Nyataya/Daily Nation
opinion
By Barnabas Korir
As we bury our hero Nicholas Bett Thursday, I just want to reflect on his times as an athlete as a way of paying my last respect.
Bett may not have lived long, but some of us may never attain what he achieved irrespective of how long we live.
The mere fact that Bett was the first Kenyan to win the 400 metres hurdles gold medal at the 2015 World Championships places him in the "Hall of Fame" cadre, to say the least.
Who will forget that warm night in Beijing in 2015, when Bett burst into speed to give Kenya the first sprints gold medal at the World Championships?
The unprecedented and historic feat has no doubt encouraged many other Kenyans to venture into a discipline that was previously dominated by their European and American counterparts.
In fact, it was because of what Bett did in 2015 that Boniface Mucheru almost won Kenya an Olympic gold in Rio in 2016 only to miscalculate and settle for silver.
In short, Bett has inculcated a sense of 'self belief' into our athletes that they can do it.
No wonder the 4x400m quartet, which included his sibling, Aaron Koech, won gold at the African Athletics Championships in Asaba, Nigeria, earlier this month.
Considering Bett's feat in sprints, Kenyans now believe they can match their counterparts from other continents in short races.
Soon, I believe, we will start seeing the results of the journey Bett started in 2015.
Initially, Kenya was a country where even the coaches have in the past discouraged athletes from concentrating on 400m, switching them to either 800m or 1,500m because they believed we are not cut for sprints.
But as they say, times are changing, thanks to the likes of Bett, who believed Kenyans are just as good in sprints as they are in mid and long distance. This is why irrespective of Bett's subsequent performances, he will always hold a special place in our hearts as the athletics family.
However, considering Bett hails from an athletics loving family, I believe we haven't seen the last of him. We all know Aaron also runs the 400m hurdles and he has been improving with time.
Aaron is definitely the next big thing and he may want to do something spectacular in honour of his departed sibling.
Last but not least, I just want to urge the government to come out and support Bett's young family in whichever way. Of course, we have always talked about setting up a kitty for our heroes and heroines but this has ended at conference level.
But with this kind of happenings, we need to rethink our position and put something in place.
Finally, I want to wish Bett's family all the best during this trying moment and also pray to God to give them the necessary strength to go through this.
RIP our hero and friend, till we meet again!