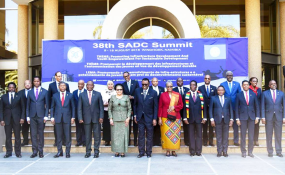 Photo: SADC
TANZANIA is scheduled to host the 39th Summit of Heads of State and Government of the Southern African Development Community (SADC) which will be held in August next year.
A statement issued in Dar es Salaam yesterday by the Ministry of Foreign Affairs and East African Cooperation said that the 38th Summit of Heads of State and Government of SADC that was held in Windhoek, Namibia this week for two days (August 17 to 18) nominated President John Magufuli as Vice Chairman for SADC for a period of between August 2018 to August 2019.
The statement said that president Magufuli will officially assume the chairmanship of SADC during the 39th summit of August 2019, which will be held in Tanzania.
The two day summit which was held at the Safari Conference Centre focused on the theme "Promoting Infrastructure Development and Youth Empowerment for Sustainable Development."
The theme builds on the focus of the past four SADC Summits that sought to advance industrial development and takes into account the need for adequate infrastructure to support industrialisation and the need to engage the youth, who are the bulk of the SADC population.
The President of Namibia, Hage Geingob who is the in-coming Chairperson of the SADC Chairman, said it is within the interest of member countries to ensure that youths in the region are equipped with necessary tools required to govern industrialised nations.
He noted that through adher ence to strong governance principles, the region will improve the standards of living and quality of life for its people.
In addition to Namibian president assuming the leadership of the regional organisation from his South African counterpart Cyril Ramaphosa in August, the 38th SADC Summit is expected to welcome its newest member, the Union of Comoros.
Comoros was formally admitted into SADC at the 37th SADC Summit held in Pretoria, South Africa.
Its admission brings the membership of SADC to 16, an indication of the confidence shown in the regional organisation.
The other 15 member states are Angola, Botswana, Democratic Republic of Congo, Lesotho, Malawi, Madagascar, Mauritius, Mozambique, Namibia, South Africa, Seychelles, ESwatini, Tanzania, Zambia and Zimbabwe.