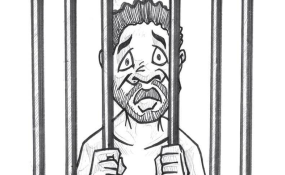 Photo: This Day
By Salem Solomon
Dejen Ande Hishel was an elite Eritrean fighter pilot. He trained in Russia and flew twin-engine MiG-29 Soviet jets during Eritrea's war with Ethiopia in the late 1990s.
But in 1999, Eritrean authorities arrested him, for reasons that remain unclear. He was never formally charged with a crime or faced trial, but nonetheless he spent 15 years in a maximum-security prison before escaping in 2014.
Today Dejen lives in Sweden and is speaking out on behalf of others imprisoned in Eritrea, many of whom have been held incommunicado, without a trial or hearing, for more than a decade.
"I feel a sense of responsibility to speak not only for myself, but for all of those left in prison," Dejen told VOA, speaking in Tigrigna.
End of war
The timing of Dejen's call is no coincidence. Eritrea and Ethiopia recently negotiated an end to their 20-year border conflict, which the Eritrean government has said necessitated tight restrictions on its citizens, including indefinite, compulsory military service and limitations on movement, both within and outside the country.
As dynamics in the region change, activists are hoping the government will loosen those restrictions or free prisoners.
In July, Radio France International reported that Eritrean authorities released 35 Christians who belong to denominations not recognized by the state. The 35 had been arrested for illegally practicing their faith.
Berhane Asmelash, an advocate for Eritreans facing religious persecution, told RFI that the releases had already been planned and weren't prompted by Eritrea and Ethiopia's new peace deal.
The government has yet to acknowledge the reported releases. VOA reached out for comment from Yemane Gebremeskel, Eritrea's minister of information, but did not hear back.
When a reporter with The Economist met Yemane recently in Asmara, the capital, he said people should give the government time to institute domestic changes.
'I see myself as if I am still in prison'
Although he's no longer detained, Dejen said his freedom has not been complete because so many remain in prison, including high-ranking officers.
Semhar Habtezion's father, Brigadier General Habtezion Hadgu, founded the Eritrean Air Force, Semhar told VOA. He was incarcerated in 2003.
"He had direct altercations with the president," Semhar said. Those disagreements concerned how the air force was managed and why colleagues like Dejen had been imprisoned.
"He had the fancy of owning and running his own farm in the countryside where he was born," Semhar said, and would have been content to simply step away from the air force.
But Habtezion never got that chance. He has been held incommunicado for 15 years, and his family's attempts to even learn about his health have gone nowhere.