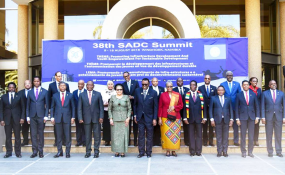 Photo: SADC
By Mooketsi Mojalemotho
Windhoek — President Joseph Kabila announced on August 17 during the 38th ordinary Summit of the Heads of State and Government of the Southern African Development Community (SADC) that he would step down as Democratic Republic of Congo president after 17 years at the helm.
Kabila's decision not to stand for re-election slated for December was embraced and highly praised by regional heads of state who said it was the most principled and constitutionally sound thing to do for the sake of peace, progress and stability of DRC.
Bidding the SADC community farewell, he commended the regional bloc for having stood alongside his country throughout its long and difficult journey of many years.
"What a journey it has been, long, difficult, challenging to reunify the country, restore peace, and consolidate state authority," he said of the difficult political face that finally led to the 2006 and subsequent 2011 elections in the DRC.
It was upon this background that the people of DRC will forever remain indebted to the SADC region for all of the sacrifices conferred upon their country including the shedding of the blood of the sons and daughters of the regional bloc in the soils of the Congolese.
He promised the summit his country would make sure that such sacrifices were not in vain.
Mr Kabila said further that save for a few hotspots; state authority and democracy were not just a reality, but remains irreversible.
Also, Mr Kabila thanked current and former heads of state for having shared with him and his country their experiences and wisdom throughout his tenure as president.
"Thank you for making my work easier. I appreciate your support and all those who have made it difficult, it is well," he said.
Although he steps down as president, Mr Kabila assured that DRC would remain committed to the SADC agenda of regional development and integration, which he said were a priority for the regional bloc and indeed the rest of the African continent.
He said in his parting shot, SADC should remain steadfast, strong and never forget the past in its pursuit to seek socio-economic and political emancipation and development of its people.