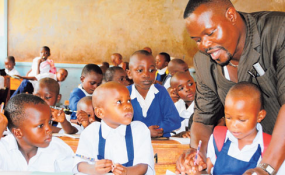 Photo: The Citizen
By Ludovick Kazoka
Dodoma — The government has employed 2,160 new Science, Mathematics and Literature teachers as well as lab technicians for secondary schools through Online Teachers Employment System (OTEAS) between June 17 and July 20, 2018.
Announcing the new jobs here yesterday, Minister of State in President's Office, Regional Administration and Local Government, Suleiman Jafo said 20,101 graduates applied for the posts through OTEAS.
"The new public servants are among 6,785 teachers whose permits for employments were secured from the Ministry of Public Service and Good Governance since May 30," said the minister.
Mr Jafo explained that the new recruits include 1,900 science and mathematics teachers, 100 literature teachers and 160 lab technicians, directing them to report to the Council Directors' Offices in their respective working stations between August 23 and September 5.
"The new civil servants should bring with them their original academic and professional certificates as well as birth certificates to the council directors in their respective working stations," said the minister.
Mr Jafo explained that after reporting to Council Directors' Office, the new employees should proceed to their working stations which are secondary schools and the government will take stern action against those failing to report to their working stations after receiving allowances.
"There is no any relocation of working station for new employees for the time being and new teachers who will not report to their working stations within announced reporting time will be replaced by teachers in the reserve list of applicants with required qualification," said the minister.
Mr Jafo directed the council directors to accord the new employees cooperation and inform the ministry on those meeting the deadline.
"Their details should be filled in the forms through the Local Government Staff Recruitment System immediately after reporting to their working stations," he observed.