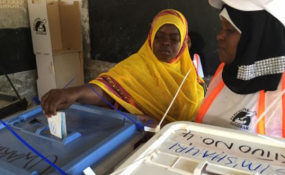 Photo: Le Pays
Dar es Salaam — National Electoral Commission (NEC) has invited foreign and local election observers to the Parliamentary and ward councillorship by-elections, which will be held on September 16.
The Parliamentary by-elections will be held in three constituencies-Korogwe rural, Ukonga and Monduli.
The Parliamentary by-elections, along with those of councilors in 23 wards, will be held due to various reasons, which include defections and deaths.
Both former Monduli and Ukonga Members of Parliament Mr Julius Kalanga and Mr Waitara Kalanga respectively defected to the ruling Chama Cha Mapinduzi (CCM) from the main opposition Chadema, while the Korogwe rural by-election will be held following the death of its MP Mr Stephen Ngonyani.
A statement released to the media by NEC indicates that the move intends to enhance transparency during the election.
"In order to enhance transparency in the by elections, which are scheduled to take place later next month, NEC invites local and foreign election observes as per 2015 Election regulations number 18 (2) and 14 (2).