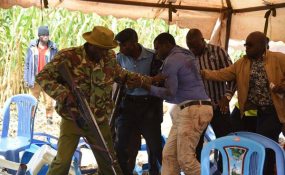 Photo: Daily Nation
Police were on Tuesday looking into claims that Bungoma Senator Moses Wetang'ula was the target in a shooting that saw five people suffer bullet injuries in a burial in Trans Nzoia on Monday.
Although there was no proof yet to the sensational claims, Mr Wetangula and a local leader who was injured during the burial of a bodyguard attached to Likuyani MP Enock Kibunguchy, claimed that the shots were aimed at the Ford Kenya leader.
Mr Kibuguchy's driver was shot dead by armed gang last week.
The Bungoma senator claimed the incident at Mukuyu village Kiminini was political elimination against Ford-Kenya leadership.
MISSED BULLET
"I saw the police who shot the MCA and he was aiming at us. I am perturbed that the bullet was meant for me," claimed Mr Wetang'ula.
The sentiments are supported by Kapomboi MCA Ben Wanjala who sustained bullet injury during the fracas.
"The bullet which shot me was meant for Mr Wetang'ula, it missed him by a whisker," said Mr Wanjala who is receiving treatment at Mt Elgon hospital in Kitale.
Dr Kibunguchy was on Tuesday summoned by detectives from Kakamega County to record a statement over remarks he made at a funeral service of his driver Trans-Nzoia County on Monday.
POLITICAL OPPONENTS
The detectives have asked the MP to shed light on claims that his opponents were behind an attack in which his driver was shot dead outside a motel at the Soy market.
The MP who spoke on phone said the chaos which erupted at his driver's funeral was part of a scheme by his political opponents to eliminate him.
"We have summoned the MP to record a statement on his remarks that there was a plot by his political opponents to have him killed," said Mr John Onyango, the county criminal investigation officer.
A section of MCAs from the Kakamega County led by Leader of Majority Joel Otwoma and nominated county representative Ms Auxillia Nyamwoma accused Mr Kibunguchy of inciting mourners to eject the County Executive for Sports Robert Kundu Makhanu shortly after he had arrived to attend the funeral.
VIOLENCE
"We condemn the remarks made by the MP while he was addressing mourners during the burial of his driver," said Mr Otwoma.
The MCAs who are close allies of Kakamega Governor Wycliffe Oparanya said it was unfortunate that Mr Kibunguchy had incited mourners to attack the county official who had attended the burial.
They asked the MP to respect Governor Oparanya and other county officials and avoid using funerals to tarnish their reputation.
Mr Makhanu did not show up for the media briefing or respond to calls or text messages sent to his him. But according to Dr Kibunguchy the killing of his driver was an attempt on his life, was violence aimed at Ford-Kenya leaders who attended the funeral was engineered by the same people who killed his driver.