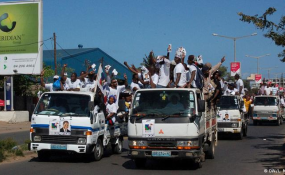 Photo: DW
By Joseph Hanlon
State companies: electricity saved but telecoms and LAM will go to the wall
It is increasingly clear that the electricity sector - HCB and EDM - are being well run and will remain in state hands. But the state airline LAM and the two telecommunications companies MCel and TDM are all in such desperate straits, so badly managed, and subject to so much government interference that it appears they will be allowed to go bankrupt or be given away to anyone who will take them.
The African Development Bank had lent Mateus Magaia to Mozambique to head Electricidade de Mocambique (EDM) for three years, but he has been recalled to the ADB. But during that period he turned around EDM. As president, Armando Guebuza refused to allow EDM to raise tariffs so it lost huge amounts of money. With recruitment of better-qualified and rewarded staff, EDM saw its revenues rise from $150 mn to $500 mn. (ADB 1 Aug) Magaia also reformed procurement, stopping purchases through questionable intermediaries. He discovered that EDM was buying electricity meters from an intermediary company for $120 each when they were available on the open market for $30. (Zitamar 18 July)
And on 1 August the government announced an open application process for the chair of a new Energy Regulatory Authority. The chair must be Mozambican. (Lusa 1 Aug) In 2015 the new top staff of EDM was hired in a similar open way.
Fastjet is already competing with LAM on domestic routes and Ethiopian will start in October. Fastjet is a British-South African company operating in several African countries and a financial bail out in June appears to make it secure. LAM is bankrupt with debts of $250 mn, of which more than $80 mn is to Petromoc, the government owned fuel company, and the airports authority. LAM cannot pay its fuel bill. But the problem is not just mismanagement. The Mozambique football league owes LAM $1.5 mn and LAM refused to fly teams for the Mocambola national championship this year, so in April President Filipe Nyusi ordered it to. (@Verdade 13,15,20,24,25 July, 21 August) When the governor of Niassa was dismissed two weeks ago, he and his entourage simply went to the airport and forced LAM to take them and make confirmed passengers stay in Lichinga, with LAM paying the hotel bill.
The entire LAM board of directors was dismissed on 5 July when the Prime Mininsger could not fly due to lack o fuel, but the board continued to run the airline for two weeks because there were no replacements. On 23 July engineer Joao Carlos Po Jorge was named director general, with a brief to clean up the airline in 18 months. Government officials continue to talk of making LAM viable, but there is no chance. Perhaps Ethiopian will take it over if the government assumes the debts.
Meanwhile the government is merging the land line company TDM and the country's first mobile telephone company MCel, probably to be passed on to Vodacom, which paid $40 mn to expanding its license to include landlines and 4G. (Lusa 25 July) Vodacom is part owned by the Machel family company Whatana and the Guebuza family company Intelec. The National Communications Institute (INAC) estimates that Vodacom has the largest share of mobile data market with around 6 million customers, followed by Movitel with 4 mn and Mcel with just 3 mn.
Confusion over Mphanda Nkuwa
The long-proposed Mphanda Nkuwa dam has seemed the best bet for electricity generation; it would be only 60 km downstream from the Cahora Bassa dam and the two could be operated together, using the same water twice. But the project seems never to get off the ground, in part due to a lack of market for the electricity. After a decade of false starts President Filipe Nyusi on 22 August announced that HCB (Hidroelectrica de Cahora Bassa) and EDM (Electricidade de Mocambique) are the two companies mandated to carry out the project, and that this replaced a deal agreed in 2010 in which Insitec, owned by Celso Correia (who is now land and environment minister) would have 35%, the Brazilian construction company Camargo Correa would have 35%, and 30% by EDM. But that project never advanced. (@Verdade 23 Aug)
But Zitamar (24 Aug) says it will not be so easy. The previous energy minister, Leticia Klemens, who spent only 10 months in the post, signed a framework agreement in March 2017 with Manannan Hydro, a company owned by Sheikh Maktoum Hasher Maktoum al Maktoum, a member of the Dubai royal family. Manannan would buy out Insitec and Camargo Correa for $8.9 mn, and end up with 60% of the project. It claims it has already spent $6 mn on studies. Pedro Couto was energy minister before Klemens, was relieved of that post and made chair of HCB in September 2016.
Possible restart for Moamba Maior
Work on the Moamba Maior dam on the Incomati River, intended to supply water to Maputo as well as irrigation water, was stopped in 2016 because of the Brazilian corruption scandal. Public Works Minister Joao Machatine says the Brazilian contractor Andrade Gutierrez had identified Chinese money and that work would resume. But the cost would increase from $460 mn to $700 mn, partly by adding in the cost of the 80 km pipe to Maputo. (Lusa 17 Aug) But Savana (24 Aug) points out that like the Katembe bridge, the cost seems to jump when the Chinese are providing the funds.
4 Renamo-government working groups established
A joint government-Renamo Commission on Military Affairs, and three Joint Technical Groups - one on Disarmament and Reintegration, one on incorporating Renamo militia members into the armed forces (FADM) and the police, and one on monitoring and verification - were established on 15 August. All were to start their work immediately, President Filpe Nyusi said. (AIM En 16 Aug) The working groups were called for in the memorandum of understanding signed by Nyusi and Renamo acting head Ossufo Momade earlier in August. (Names of the commission members are in the attached pdf of this newsletter.)
On 15 August the President also promoted three military officers who had once been members of Renamo, as had been promised in negotiations with Renamo head Afonso Dhlakama before he died. The three are Xavier Antonio and Araujo Maciacona, both promoted from colonel to brigadier, and navy captain Inacio Luis Vaz, promoted to commodore. Ten Renamo members will be integrated as officers in the police. (Noticias 25 Aug)