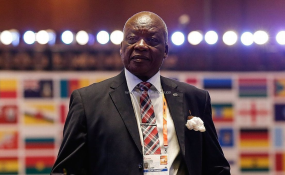 Photo: Capital FM
By David Kwalimwa
Banned former Athletics Kenya vice-president David Okeyo has vowed to fight the latest punishment imposed on him by the International Association of Athletics Federations (IAAF).
Okeyo was on Thursday banned for life and ordered to pay $150,000 (about Sh15 million) by the IAAF Ethics Board which found him guilty of diverting federation funds to personal use.
"The judgment is very harsh and I have instructed my legal team to appeal. I maintain my innocence over this matter," said Okeyo.
Okeyo had been provisionally suspended by the IAAF in November 2015, along with two other Kenyan officials, former AK president Isaiah Kiplagat, who died in August 2016, and AK treasurer Joseph Kinyua.
Okeyo has also been accused of extorting money from athletes in relation to anti-doping procedures. A decision on those charges has yet to be made by the IAAF's ethics commission.
"Mr Okeyo should be expelled from his office as a member of the IAAF Council and banned for life from taking or holding any office in the sport or taking part in any Athletics related activity," the 74-page Ethics Board report reads in part.
In particular, Okeyo faced charges alongside his colleagues namely former Athletics Kenya President Isaiah Kiplagat (deceased) and treasurer Joseph Kinyua of pocketing part or whole of $1.2 million (Sh120 million) forwarded to the federation's account by the team's official sponsors Nike.
It now seems a long way back, but Okeyo has hinted he will be heading to the Court of Arbitration for Sport in Lausanne, Switzerland in search for justice.
The law requires he files an appeal within 21 days.
In a related development, the Ethics Board has acquitted Kinyua over the same claims and dropped charges against the late Kiplagat, who died before he could face the charges.
The Ethics Board has however yet to rule on another case involving AK former chief executive Isaac Mwangi.
He is charged with soliciting for bribes from athletes, who tested positive for banned substances with intent to clearing them or reducing their bans.
This development further confirms fears that sports administrators in Kenya could be siphoning funds sent by international affiliates and aimed at developing sports in the country.