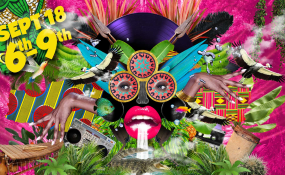 Photo: Nyege Nyege
The Minister for Ethics and Integrity, Simon Lokodo has said the much anticipated and publicized MTN sponsored Nyege Nyege festival which was scheduled for this weekend will not take place.
Addressing journalists in Kampala on Tuesday evening, Mr Lokodo said he had written to police to ensure that the event doesn't take place.
"This ugly thing called MTN Nyege Nyege is not taking place this year. We have already evaluated how much losses will come. We shall save the image of this country but not allow this to take place for the two days and one night," he said.
Mr Lokodo said they have information that open sex, noise, homosexuality, LGBTI will be part of this event.
"MTN Nyege Nyege will not be accepted because these people will be openly saying such statuses. This year, it will not take place. I wanted Nyege Nyege cancelled last year but they escaped. Ministry Foreign Affairs is not aware of their activities and this should be a security issue. It is the organisers that didn't come to us for clarification," he added.
According to the minister, the person organising the event is a foreigner and his stay in Uganda will be affected by this event.
"We weighed and thought that the society will be affected by the MTN Nyege Nyege. This is close to devil worshiping and not acceptable," he added.
Mr Lokodo further noted that there is a dark stage organised where some of the best electronic artists are lined up.
"It'll attract tropical, international and local artists. It's expected that the place will have 10,000 people," he noted.
He said there will be nudity and sexuality done at any time of the hour. There will be open sex. The very name of the festival is provocative. It means "sex, sex" or urge for sex. We have been informed it's taking place near Owen Fall's dam. This brings uncertainty & fear.
Nyege Nyege was last year sponsored by Bell lager. It's a three day event.
However, the minister noted that they made the cost rise of the ticket to Shs150,000.
He said the activity will be covered by alcohol and music.
"There will be drugs, toxicants not accepted by this country"
About 300 artists from more than 30 countries had been listed to perform at the event which had been scheduled to take place at Nile Discovery Beach in Jinja, by the source of the Nile. This year, organisers say they've dedicated a special focus to music from South Africa and Tanzania.
South African artists include rapper Sho Madjozi, gqom acts Rude Boyz, Dominowe and Phatstoki, and sgubhu producer Sleeping Buddah.