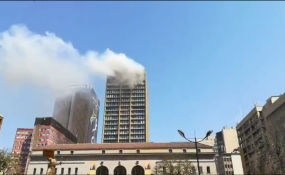 Photo: Supplied
The names of the three firefighters who lost their lives in a blaze at the Bank of Lisbon building in Johannesburg have been released on Wednesday.
Johannesburg Public Safety MMC Michael Sun released the names at a media briefing outside the building on Thursday.
Twenty-eight-year-old Simphiwe Moropane is believed to be the first firefighter to have died in the tragedy, after he slipped and fell from the 23 rd floor. He had run out of oxygen and had gone to the ledge to try to get air.
His partner and the mother of his two children has sent tributes out to her husband and set up a GoFundMe page which the public can donate to. So far, the page has raised just over R14 000.
The other two firefighters, 40-year-old Mduduzi Ndlovu and 37-year-old Kathutshelo Muedi are believed to have died from lack of oxygen after they became trapped in the building.
Mayor Herman Mashaba met with the families of the deceased at the Fairview fire station on Thursday.
The fire in the Bank of Lisbon building - which housed the Gauteng departments of health, human settlements, and cooperative government and traditional affairs - broke out on the 23rd floor on Wednesday.
In a briefing outside the building on Wednesday afternoon, Infrastructure Development MEC Jacob Mamabolo said his department had commissioned an assessment of various buildings around the city in 2017 for occupational health and safety.
The report which was presented on August 27, 2018, had revealed that the Bank of Lisbon building was only 21% compliant with occupational health and safety standards, against the norm of 85%.
He warned against speculating about what may have caused the blaze. However, the National Education, Health and Workers Union and the Democratic Nursing Association of South Africa have both said that they reported safety issues in the building since 2014.
EMS spokesperson Nana Radebe said firefighters were in the process of dampening down of the smoke, after the fire reignited in the early hours of Thursday morning.
Director of mayoral communications at the City of Johannesburg, Luyanda Mfeka, said he was unable to provide details of the memorial service for the firefighters at this stage."We usually do hold memorials, but that will most likely be announced next week," he told News24.
Source: News24