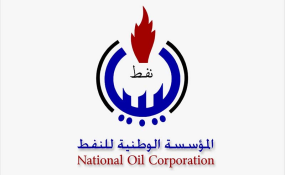 Photo: National Oil Corporatiobn
Gunmen have launched a violent attack on the headquarters of Libya's national oil firm, leaving several dead and many more injured. The head of the oil firm described it as a "very violent attack" with "random shooting."
At least two oil staff members on Monday were killed when a ground of gunmen stormed the headquarters of Libya's National Oil Corporation (NOC) in the capital Tripoli, according to the health ministry.
The armed group started shooting randomly in the building and set off several explosives. A fire caused by the explosives spread throughout the building.
"The building was heavily damaged due to the fire. Smoke is everywhere," said Mustafa Sanallah, who heads NOC. "The gunmen attacked the lower floors with random shooting and explosions. It's a very violent attack."
At least two of the gunmen were killed by Libyan security forces, according to security sources.
While Libya has struggled under heavy fighting between rivals militias and armed factions, NOC and the Libyan Central Bank have largely escaped the violence.
Fragile ceasefire
At least 60 people have been killed and thousands displaced by fighting between rival militias and government forces since last month, marking a steep rise in violence in the capital city.
But the UN last week said armed militias had agreed to a ceasefire with the internationally-recognized government in Tripoli.
Since an uprising in 2011 evolved into a civil war and unseated former dictator Moammar Gadhafi, armed militias have fought for influence and control across the country.