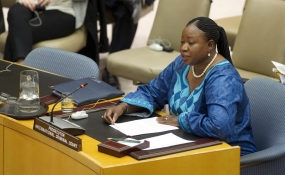 Photo: Evan Schneider/UN Photo
Washington will sanction and prosecute ICC judges who open an investigation into US war crimes in Afghanistan, said a top official. In November, the ICC chief prosecutor requested a probe into criminal action by the US.
US National Security Adviser John Bolton on Monday threatened to sanction and prosecute International Criminal Court (ICC) judges if the tribunal attempts to charge US service members and intelligence agents with war crimes.
"The United States will use any means necessary to protect our citizens and those of our allies from unjust prosecution by this illegitimate court," Bolton said in a speech delivered to the conservative Federalist Society in Washington.
"We will not cooperate with the ICC. We will provide no assistance to the ICC. We will not join the ICC. We will let the ICC die on its own. After all, for all intents and purposes, the ICC is already dead to us."
Ban, sanction, prosecute
In November, ICC chief prosecutor Fatou Bensouda said there was a "reasonable basis to believe that war crimes and crimes against humanity have been committed in connection with the armed conflict in Afghanistan" since the US-led invasion in 2001.
Bensouda said a "meticulous preliminary examination" had led her to "the conclusion that all legal criteria to commence an investigation have been met."
But Bolton said that if ICC prosecutors attempted to do so, the US would target the international court's judges.
"We will ban its judges and prosecutors from entering the United States. We will sanction their funds in the US financial system, and we will prosecute them in the US criminal system. We will do the same for any company or state that assists an ICC investigation of Americans," he said.
ICC prosecutors asked for the court to open an investigation into alleged war crimes carried out by Afghan security forces, Taliban and Haqqani militants as well as US troops and intelligence forces who were in Afghanistan since 2003. The US personnel are accused of illegal imprisonment and torture.
Rights groups slam 'authoritarian' threats
The US announcement was swiftly criticized by human rights groups, with the American Civil Liberties Union (ACLU) saying Bolton's threats were "straight out of an authoritarian playbook."
"This misguided and harmful policy will only further isolate the United States from its closest allies and give solace to war criminals and authoritarian regimes seeking to evade international accountability," the ACLU said in a statement. The organization represents several people who claim they were tortured and detained in Afghanistan from 2003 to 2008.
The Human Rights Watch said that any attempt by the US to thwart ICC investigations "would demonstrate that the administration was more concerned with coddling serial rights abusers — and deflecting scrutiny of US conduct in Afghanistan — than supporting impartial justice."
International justice
The ICC is an international tribunal tasked with bringing to justice perpetrators of genocide, crimes against humanity and war crimes. More than 120 countries are signatories to the Rome Statute that established the ICC, including Germany.
While the US had initially been a signatory, it later withdrew its support for the institution. Although former US President Barack Obama at times cooperated with the ICC, his predecessor, George W. Bush, and his successor, Donald Trump, remained critical of the body.