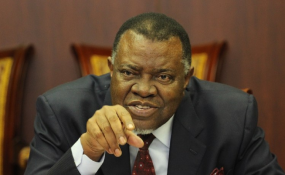 Photo: The Namibian
By Sakeus Iikela
President Hage Geingob yesterday said the government was "not crazy" for sourcing foreign loans to fund infrastructure development; but the intention is to create jobs.
Geingob made the remarks at a media briefing on his recently concluded trip to Indonesia and China, where he attended the Forum on China-Africa Cooperation (Focac) summit.
During the Focac summit, Namibia signed the China Belt and Road Initiative to help the country develop its infrastructure and market access.
The President said the government was only "crazy for development" to improve the economy and create jobs.
Geingob responded to criticism that the government was taking on too much debt, especially from China, with debt already standing at 43% of gross domestic product (GDP).
The Namibian reported last week that the government wanted to borrow N$10 billion from China in the next five years to fund infrastructure projects, including the upgrading of the Hosea Kutako International Airport.
"I don't know where the people are getting the idea that we are now crazy for loans. We are only crazy for development, creating jobs and so on, and we have been careful for not taking loans for 28 years. But then we don't have jobs, and when you don't have jobs, the economy of the country doesn't grow," he said.
Geingob also refuted the notion that African countries were falling into a debt trap by accepting Chinese concessional loans.
He said China offered loans with no conditions attached, and that the conditions were supposed to be set by countries taking the loans.
During the Focac summit, China offered US$60 billion to African countries to fund their infrastructure development.
He added that instead of complaining about loans, the public should rather hold the government accountable for every action they take to ensure that the funds acquired were used for the intended purposes.
Geingob also said Namibia could not be compared to Sri Lanka "because it is one case, and we don't know what happened there".
He added that Namibia would not give up its sovereignty by allowing another country to take over some of its territory.
Sri Lanka has been referred to by many analysts as an example of the Chinese debt trap, and lost a major port to China after it failed to settle its US$13 billion debt.
Finance minister Calle Schlettwein yesterday said Namibia's debt was still manageable and that the country would be able to service its Chinese loans. He said Namibia's ability to repay Chinese loans would depend on the level of exports to China.
Schlettwein said Namibia's exposure to Chinese debt was N$2 billion, of which China has proposed writing off N$1,7 billion.
He added that Namibia has not signed any agreement with China, as the feasibility studies of some of the proposed projects for funding were still under development.