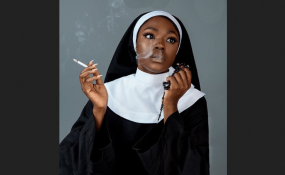 Photo: The Guardian
By Njideka Agbo
Beverly Osu is on the cover of the TaylorLive Magazine.
The cover title Secrets of Beverly Osu is an expression of her inner fears and secrets since she participated in Big Brother Africa.
In the pictures for the magazine, she is dressed as a nun and holds a cigarette and a lingerie.
While some have said that the pictures are a ridicule of some peoples religious faith, others have said that it is creativity at its best.
I am no Catholic, but the least you can do to belief and faith that people hold dear is to respect it.
What Beverly Osu did isn't wokeness. It is provocative, disgusting and it was simply done to make her trend. Sadly, we have fallen for the bait.
-- No one (@ilynem) September 11, 2018
Although people have abused sacred materials a lot including Rosaries.
But what Beverly Osu did in this shoot is outrageously disgusting.
Smoking in a seductive nun attire wit Rosary at hand?
Rosary is meant 4 prayers, Christian wont come after u tho but leave u to ur conscience pic.twitter.com/wifHf1bxPh
-- King 👑 (@theDamorela) September 11, 2018
Others are of a different opinion:
I see nothing wrong with that Beverly Osu's shoot..
I love it even.
Portrays how highly hypocritical religious people are.
Don't get why people are in their feelings over it.
You can insult her all you want tho.
Won't change how true her message is. Smh
-- +DIDI💎 (@Thic_didi) September 11, 2018
We know Beverly Osu can't try this with Hijab, but to be artistic enough, sometimes you need to go the extra mile to pass a message. I do not condemn her, rather I'm more concerned about the message she's trying to pass with this shoot. pic.twitter.com/QmYAJLINAh
-- Umeh and 99 others (@UmehOMA) September 11, 2018