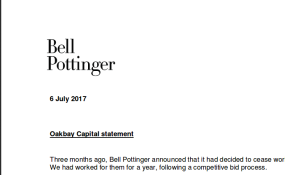 Photo: Screenshot
analysis
By Rebecca Davis
Exactly one year ago, British PR firm Bell Pottinger received its final death-knell. On 12 September 2017, it went into administration, the firm's collapse directly precipitated by its work for the Gupta family in South Africa. This week, it was revealed that the man who chaired the British PR industry's probe into Bell Pottinger, Francis Ingham, had been personally threatened by South African "thugs". And while the firm itself may no longer exist, the dodgy practices it brought to South Africa's public discourse appear to be alive and well - as the Democratic Alliance claims to have experienced this week.
Taking on the Gupta family can be costly. Francis Ingham, the head of Britain's Public Relations and Communications Association (PRCA), learnt this the hard way.
In an interview with British trade publication PR Week this week, Ingham described the months in 2017 during which he probed the Guptas' PR agency, Bell Pottinger, as "the most difficult period" of his professional career.
Ingham failed to respond to Daily Maverick's request for comment, but he told PR Week that he had received both electronic and personal threats while the PRCA was investigating Bell Pottinger's work for the Guptas.
Ingham was quoted as...