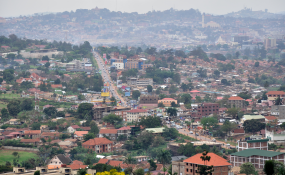 Photo: Simisa/Wikimedia
By Andrew Bagala
Kampala — The government will be saving Shs1 trillion each year in overhead expenses following a Cabinet decision to scrap and or merge up to 71 semi-autonomous agencies, Information Minister Frank Tumwebaze said yesterday.
Officials did not provide figures for jobs to be scrapped, but our computations based on head counts of affected entities show that job losses are likely to gross 15,000.
Uganda National Roads Authority, which under the intended restructuring is returning to the mother Works ministry as a Department, currently employs 1,700 people.
It is headed by an executive director and has various directors, managers and other senior staff whose jobs now hang in balance because there are no corresponding vacancies at the parent ministry or there are already employees in place doing similar jobs.
"There will be loss of some jobs, but at the same time, there are jobs that will be created. Some districts are operating at 50 per cent. If you remove duplicated jobs, you can get jobs at district level," Mr Tumwebaze said yesterday without providing figures on expected new jobs.
The government reforms, first raised by President Museveni last year, aim to prevent duplication of roles and wastage of public resources.
In a July 2017 letter, Mr Museveni directed Vice President Edward Ssekandi and Prime Minister Ruhakana Rugunda to spearhead review of government agencies that he said were a burden to taxpayers.
The Public Service ministry Permanent Secretary, Ms Catherine Bitarakwate, the 153 agencies combined gobbled up 37 per cent of last financial year's Shs29 trillion budge.
She said the money was spent on wage bill, rents and other operational costs.
Disbanding or merging the entities, therefore, will cause a dip in demand for high-rate property in the inner-city where only the government with its deeper pocket could afford paying rent with less encumbrance.
It also signals an upset to landlords' guaranteed income and a potential instability in real estate pricing in a city where many floors of high-rise buildings remain unoccupied.
Mr Tumwebaze said the restructuring will eliminate wasteful expenditure and the funds will be allocated to other priority areas for the country's socio-economic development.
In total, 39 entities have been merged, 32 disbanded and 50 retained while the fate of 31 agencies is pending ongoing Cabinet review.
The re-organisation, welcomed by the public as necessary to rein in a bloated public administration, is the boldest of government's decisions. If fully implemented, it is likely to have wide-ranging consequences and revive questions about the rationale of establishing them in the first place.
Although officials of the entities reported making progress, Cabinet agreed that they had less-than-satisfactory performance while their employees received far generous remunerations that dwarfed the take-home pay of more senior ministry staff.
Many executives in self-accounting agencies earn anywhere between Shs15m and Shs45m while a commissioner in a ministry is paid Shs2.5m to Shs5m.
It remained unclear, for instance, how salaries of higher-earning employees of merged entities would be adjusted if they are absorbed by parent ministries since salaries under the law cannot be varied downwards.
The Cabinet in theory envisages that civil servants at the same level will earn the same salary under the new structure that presages a planned comprehensive salary review.
Minister Tumwebaze yesterday told a press conference in Kampala that the restructuring will definitely lead to loss of jobs and pay-outs to affected employees, but the savings made in the longer run will enable a bigger number of civil servants to get salary enhancement.
Neither Mr Tumwebaze nor the PS Bitarakwate offered a roadmap on the implementation of the restructuring exercise that will result in massive lay-off of the kind experienced in the country during the 1990s retrenchment.
A Cabinet source told this newspaper, ahead of yesterday's official announcement, that the Justice Minister is expected to prepare and present an omnibus Bill for Parliament to consider to repeal and replace laws establishing most of the affected agencies.
In some case, the Constitution will require to be amended again since some of the entities such as Uganda Land Commission are a creation of the supreme law.
Ps Bitarakwate, whose Public Service ministry has been instrumental in providing the blueprint for cabinet discussion, and which will continue to play a key role on personnel and remuneration matters during the re-organisation, hinted on the possibility of the government waiting for contracts of agencies' workers to lapse.
Most of them, this newspaper was told, have three-year contracts that subsequently will not be renewed. This means they most likely will not earn as much in severance package, if at all.
"There will be a compensation package," the PS said, without specifying if pay-out will be for all employees. "It is going to be given to all those who will be affected."
Ms Bitarakwate said most heads of agencies will be required to reapply after the restructuring and those unwilling to join the new arrangement will be given their benefits.
What people say
Luke Kisubi, HR admin: I wonder why it has taken that long for the executive to realize that there was duplication of services. What was the mandate of these agencies? Thevtechnocrats they employed are the very people who work in government earning double salaries pretending to be working in government
Cyprian Batala, Trade policy analyst: It is a rational decision ro fuse the functions because there was a lot of duplication of work. Ministry of trade comes up with a policy to market Uganda and the export promotions board is ignorant about it they tell them to produce products yet it is the role of NARO and Kawanda to develop products required in the market you find export promotions board was misplaced
Justine Namwina, teacher:It is a very good idea because i always viewed them as exaggerations because then what were the ministries doing?
Brian Jjuko, marketer: It is now the opposite of decentralization they are trying to make supervision and management of the civil service easy because it was easier to manage Uganda when it had 40 districts than the current 140 because it is easier to administer smaller centralised units
Agatha Hamba, HR practitioner: It is a very welcome move because agencies have been duplicating work and services which were primarirly done by the ministry because i have always wondered how they mapped out their jurisdictions how did they distinguish their roles and responsibilities?
Olive Negesa, Social worker: I am sure this time we shall get the qualified employees occupying their jobs using their skills unlike in the agencies which employed relatives, ghost employees superimposed to promote corruption
Retained agencies
Bank of Uganda
Uganda Revenue Authority
Uganda Development Bank
Financial Intelligence Authority
Housing Finance Bank Limited
Development Finance Company of Uganda
National Housing and Construction Corpn
National Social Security Fund
PPDPA
Capital Markets Authority
Post Bank Uganda
Pride Microfinance
Uganda Development Corporation
Nile Hotel Intl Conf Centre (Serena)
Uganda Wildlife Training Institute
Hotel and Tourism Training Institute
Makerere University (& MUBS)
Mbarara University of Science and Tech
Kyambogo University
Busitema University
Gulu University
Kabale University
Lira University
Muni University
Soroti University
Law Development Centre
National Council for Sports
Uganda Management Institute
Nakivubo War Memorial Stadium
Mandela National Stadium
Uganda Media Centre
UBC
New Vision
Uganda Telecommunications Limited
Uganda Institute of ICT
Industrial Court
Uganda National Cultural Centre
Uganda Human Rights Commission
Judicial Service Commission
Uganda Air Cargo Corp Ltd
East African Aviation Academy
Civil Aviation Authority
Uganda Railways Corporation
National Enterprises Corpn
Institution of Luwero Industries Ltd