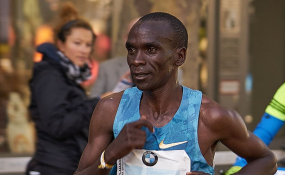 Photo: Denis Barthel /Wikpedia
By Timothy Olobulu
Nairobi — Eliud Kipchoge ran the race of his life on Sunday morning smashing Dennis Kimetto's four-year old World Record enroute to winning the Berlin Marathon running in a time of 2:01:39.
The 33-year old who came eight seconds close to breaking the 2:02:57 mark at the London Marathon in 2016 ran a race against the clock almost the entire race becoming the first man ever to run the marathon under two hours and two minutes, as he achieved a target he had longed for.
An ecstatic Kipchoge cut the tape with glee and excitement written all over his face, thumping his chest with both arms and letting out a scream that told just half the story of how much the record meant for him.
The Olympic Marathon champion led a Kenyan 1-2-3 sweep of the podium, youngster Amos Kipruto coming second on his birthday in a time of 2:06:24 while former World record holder Wilson Kipsang finished third in 2:06:48
-