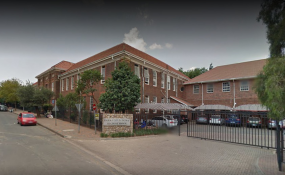 Photo: Google Maps
Sentencing proceedings of the former Parktown Boys' High School assistant water polo coach, who was convicted of the sexual assault of schoolboys, was postponed in the Palm Ridge Magistrate's Court on Monday.
This, after it emerged that the court was still waiting for a probation officer's pre-sentencing report.
The 22-year-old pleaded guilty to 144 charges of sexual assault, involving 12 schoolboys between the ages of 13 and 16. Judge Peet Johnson found him guilty on Friday.
He initially faced 327 counts, but pleaded guilty to the 144 counts of sexual assault in August. The court also acquitted him of some charges.
Proceedings are expected to resume on Thursday. The accused is out on bail.
Parents who were in court on Monday, said they were waiting to hear the judge's comments.
One parent said she wanted to appeal because it seemed to her that the court acquitted the accused of some of the charges on the basis that some witnesses were not credible.
"We understand that the law has very specific requirements. We are still trying to understand how certain acquittals were reached," the emotional parent said. She added that they were proud of the boys who testified.
"Hopefully the children will start to heal."
The parent said she also felt that the process was "rushed and there weren't child specialists called in to help the kids".
"If you've been molested for 18 months, you can't remember everything. So, to be discredited because you didn't get the exact number right, we felt that wasn't a fair representation of what happened to our boys.
"We want to appeal... because we know what happened to our kids."
Source: News24