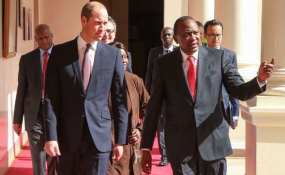 Photo: Daily Nation
By Joseph Wangui
The Duke of Cambridge, Prince William, will visit Kenya on September 30 as part of a tour of Africa.
The visit is part of his public and private engagements in Africa, that will see him go to Namibia and Tanzania as well.
BATUK
In Kenya, the 36-year-old Prince will visit the British Army Training Unit Kenya (BATUK) in Nanyuki, Laikipia County, on September 30.
"His Royal Highness will visit the 1st Battalion Irish Guards Battlegroup, which will be training under BATUK, in his role as Colonel of the Regiment," reads a statement released on Tuesday by Alice Simpson, a communication officer in the British government.
The Irish Guards Battlegroup, she said, will include an Infantry Company from the Kenyan Army.
Prince William will see how British and Kenyan troops train together to improve operations, for the benefit of both countries.
The prince last visited Kenya in March 2016 and met President Uhuru Kenyatta at State House in Nairobi County, where they discussed matters including security and wildlife conservation.
It is not yet clear whether Prince William will meet the president this time round.
In April, Mr Kenyatta met the Prince at Windsor Castle in London during a UK tour that saw him attend the Commonwealth Heads of Government Meeting.
In May, the president met British Prime Minister Theresa May and sought an agreement to guarantee access of Kenyan exports to the United Kingdon market after the country exits the European Union.