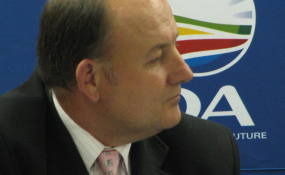 Photo: Democratic Alliance/Flickr
The Eastern Cape High Court in Port Elizabeth will on Thursday rule on whether the removal of Athol Trollip as mayor of Nelson Mandela Bay was legal or not.
Trollip was removed by the ANC, EFF and UDM as mayor of Nelson Mandela Bay in August following a motion of no confidence.
The EFF had been calling for Trollip to be ousted and revelled in his removal.
"The EFF is unapologetic about its decision to remove Athol Trollip as the executive mayor of Nelson Mandela Bay. The vote must be understood as a serious opposition to the white arrogance of the white-dominated DA," EFF leader Julius Malema said at the time.
Three days after his ousting, Trollip and his coalition partners - Cope, the ACDP and the Patriotic Alliance - lodged an application seeking urgent review.
The DA says the procedure that was used to remove Trollip wasn't in accordance with the Municipal Structures Act.
The DA insists there was no quorum on the day the motion of no confidence took place because one of its members, Victor Manyathi, ceased his membership when he abstained from voting.
The DA argued that Manyathi immediately ceased being a DA member when he exercised his right to abstain from voting, per its constitution. The DA then walked out of council chambers following Manyathi's removal, raising doubts about the sitting's quorum.
The seat of executive mayor of Nelson Mandela Bay has since been occupied by the UDM's Mongameli Bobani. Trollip and Bobani have not seen eye to eye since Trollip removed him as deputy mayor after a "rift" developed between the two.
Source: News24