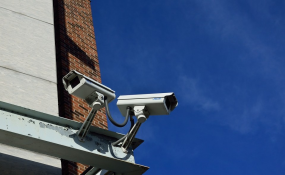 Photo: Pixabay
By Andrew Bagala
Kampala — The top management of the police has summoned the Chinese company in charge of the new CCTV project after the cameras failed to automatically read number plates of boda bodas.
A senior police officer, who preferred anonymity because of the sensitivity of the matter, said when the installed CCTV cameras were tested, they could not read motorcycle plates, especially those that are slanted.
"The CCTV cameras have no problem with number plates of cars. Our problem is with motorcycles plates. We summoned the managers of the company undertaking the project and told them that they should find better technology that can read the motorcycle licence plates or review the contract," a source said.
Capturing and reading number plates of motorcycles was one of the major reasons President Museveni fast tracked the implementation of the CCTV camera project.
This followed the gunning down of the former police spokesperson, Andrew Felix Kaweesi, his driver and bodyguard in Kulambiro, a Kampala suburb, in March last year.
Prosecutor Joan Kagezi, former Arua legislator Ibrahim Abiriga and former Buyende District police commander Muhammad Kirumira were also shot dead by gunmen riding on motorcycles in busy areas.
Residents could neither recognise the killers nor their motorcycle number plates.
The CCTV camera technology the government is interested in is the automatic number-plate recognition which captures number plates of motorcycles, reads them and automatically enters them in the system.
The deputy police spokesperson, Mr Patrick Onyango, could not confirm that the police leadership complained to Huawei Technologies, but said installation work is still ongoing and finer details will be solved in due course.
"Even if the cameras fail to read the licence plates of motorcycles, we should register them manually and inform the officers on ground to deal with errant motorists," Mr Onyango said.
Efforts to get a comment about the issue from Huawei Technologies boss Lina Cao were futile as our calls went unanswered.
In May this year, the Parliament passed a Shs60b supplementary budget for the first phase of the installation of CCTV cameras in Kampala Metropolitan Police area. The installation of the cameras has started in Kampala City.
Government is also to borrow Shs400b from private banks for the completion of the CCTV project.