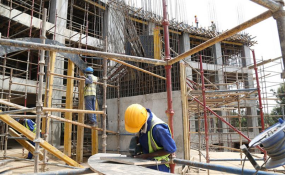 Photo: New Times
The government has persuaded financial institutions to partner with real estate developers to address the country's deficit of three million housing units.
Lands, Housing and Human Settlements Deputy Minister, Ms Angelina Mabula, said in Dodoma yesterday after launching housing expo organised by NMB Bank that the government has huge deficit of houses for civil servants after moving to the capital city.
"To address the shortage, there is need for financial institutions and developers to partner with the government in constructing at least 200,000 units annually," she said while commending NMB for organising housing exhibition bringing together stakeholders including developers, dealers in construction materials and NMB customers.
NMB has offered 13bn/- housing loans countrywide and in Dodoma Region, more than 700m/- already disbursed and will continue in order to support the government endeavour to address shortage of houses especially for civil servants. Ms Mabula said housing units required for Dodoma Region is 23,000 while 1329 units only are available.
The NMB expo is of supreme importance and is supporting the government initiative to address housing deficits in the country, she said.
"Owning decent home is the right of all citizens and we admit that there is huge challenge of addressing housing deficit in the country. But through the NMB housing expo, new opportunities in the sector will emerge," she noted.
She said the government has put in place conducive environment for public institutions and private developers take active role in constructing affordable houses that citizens can procure through bank loans. She urged commercial banks to provide affordable loans at manageable interest rates to give low income earners chance to own decent homes.
"Financial institutions should continue to review interest rates on mortgage loans to make sure more people become owners of decent houses," she said urging dealers in construction materials and other investors bring closer their services.
NMB Central Zonal Manager, Nsolo Mlozi, said the aim of the housing expo was to bring together various stakeholders in the housing sector and address challenges impeding its growth. "With this housing expo, NMB is sending message that it can provide housing loans to all its customers to own decent homes," Mlozi said.