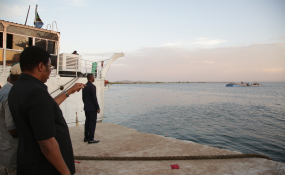 Photo: The Citizen
By John Namkwahe
Dar es Salaam — Prime Minister Kassim Majaliwa has postponed his tour of Dodoma Region and instead headed to Ukerewe in Mwanza Region to join mourners following the loss of over 120 people in the Thursday ferry disaster.
The Premier made this known on Friday, September 21as he addressed residents of Chandama Village in Chemba District, according to a statement issued by his office.
Prior to the ferry disaster reports, Mr Majaliwa was expected to start a seven day tour of Dodoma Region.
Earlier, the Premier held a meeting with residents of Itolwa, Chandama and Mapango villages, in which, among others, he told the residents that the government had allocated Sh5.6 billion to facilitate various water projects in the district.
He further assured the residents of the government's commitment to improve roads in the district, including allocating funds to for construction of a 10.3-kilometre tarmac road connecting a number of villages.
"I want the contractor and his team to redraft the construction costs, because this road connects various villages," he ordered.
According to him, the government previously allocated at least Sh833 million to facilitate the construction of the tarmac road.
However, the PM expressed his concerns that the funds were not sufficient for the road project, pledging that the government would increase funds to facilitate it.