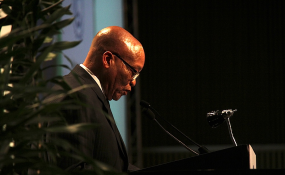 Photo: Tadegnon
Former president Jacob Zuma made a trip to Doha this week apparently without clear confirmation to authorities as per the usual protocol, the Sunday Times reported.
The trip was apparently at the invitation of the Emir of Qatar, Sheik Tamim bin Hamad al-Thani. The SA embassy in the country only became aware of the trip when a Qatari government official contacted them.
According to the Sunday Times, Ambassador Faizel Moosa wrote to International Relations Minister Lindiwe Sisulu after he had received an email from a Qatari official.
The newspaper writes that protocol dictates that the Presidency, the Department of International Relations and Cooperation (Dirco) and the relevant embassy are informed when a former president makes an international trip such as this.
President Cyril Ramaphosa confirmed to the newspaper that he had heard about the trip taking place but that he knew nothing about its details.
Dirco spokesperson Ndivhuwo Mabaya said police had informed them of the trip. The Sunday Times said this seemed to be a reference to the presidential protection unit.
Zuma's office did not respond to questions by the newspaper as to the purpose of the trip.
Source: News24