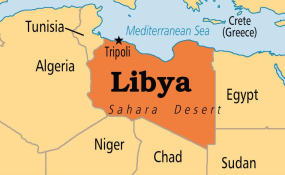 Photo: Daily Trust
Fighting between rival militias in Tripoli has left more than 100 people dead since late August despite a UN-backed ceasefire. The EU has warned that those violating a fragile ceasefire "will face consequences."
The EU delegation in Libya on Saturday urged warring militias fighting in the capital Tripoli to end the latest escalation of violence, saying it "has caused civilian fatalities."
"The solution to the Libyan crisis remains political, not military," the EU delegation said in a statement. "All those responsible for violating the ceasefire or fueling violence will face consequences."
Clashes since late August have left more than 100 people dead, prompting an outcry from Libya's UN-backed government, formerly known as the Government of National Accord (GNA).
'Bloody events'
Earlier this month, the UN said several armed militias fighting in the capital had agreed to a ceasefire with the government. But observers have described the ceasefire as fragile due to the UN-backed government's lack of influence on the ground.
UN Secretary-General Antonio Guterres expressed alarm at "the increasing number of violations of the ceasefire agreement signed by armed groups," according to his spokesman.
The GNA late Friday urged the UN mission in Libya to "present the Security Council with the reality of the bloody events in Libya so that it can ... protect the lives and property of civilians." It added that the situation requires "concrete and effective" action.
Chaos in Libya
Armed militias have fought for influence and control across Libya since 2011, when an uprising evolved into a civil war that witnessed NATO involvement. Former Libyan dictator Moammar Gadhafi was overthrown and subsequently executed by rebels.
Two rival governments comprising the UN-backed GNA in Tripoli and an Islamist-oriented one in Tobruk -- both with backing from several armed militias -- have continued to vie for power.
Instability in the North African country has made it a human trafficking hub and a central departing point for migrants attempting the dangerous voyage across the Mediterranean to Europe.
The UN has hailed a deal to "end all hostilities" and "protect civilians" after days of deadly clashes in the capital. But some observers have described the deal as "very fragile," warning that it may not last long.