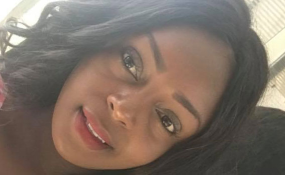 Photo: File photo/Capital FM
By Nation Team
Detectives investigating the murder of 28-year-old Monica Nyawira Kimani are probing whether the wound inflicted on the main suspect was as a result of a gunman's attack or a smokescreen.
The suspect, Mr Joseph Kuria Irungu alias Joe Jowi, was arrested on Tuesday morning in his house in Lang'ata, Nairobi. He told police officers he was attacked by gunmen on Friday morning as he dropped his fiancée, TV anchor Jackie Maribe, at her house in Royal Park Estate, also in Lang'ata.
SHOT
Mr Irungu told police that as he was exiting the estate, he encountered three men who shot him and sped off using a motorbike.
When they left, he said, he returned to Ms Maribe's house, and the two rushed to Nairobi West Hospital.
In his statement, Mr Irungu said he went to Lang'ata Hospital for treatment the same evening, and that he was admitted till Monday morning.
But police questioned why no cartridge had been recovered from the scene, why he was not operated at all to remove bullet shrapnel from the calibre wound, and why watchmen of apartments and offices near the alleged scene of shooting did not hear a gunshot or commotion.
Kilimani OCPD Michael Muchiri Tuesday confirmed that a suspect had been arrested in connection with the killing, but did not reveal more details, saying the matter was under investigation and revealing too much information would jeopardise the process.
IN CUSTODY
"The suspect is in our custody and investigators are pursuing the matter. We are doing our work," Mr Muchiri said.
Another police officer familiar with the investigations said the suspect had reported at Lang'ata Police Station that he had been shot, but said that he would seek treatment.
The suspect, he said, went ahead to take selfies of the 'gunshot wound' on his left chest below the shoulders, and shared them on WhatsApp, a situation he said was strange.
He said a multilateration of his phone's radio signals had been traced to Luciane Apartments on Kitale Lane off Denis Pritt Road, where Ms Kimani lived, and police believe that he may provide a crucial lead to what happened the day the woman was killed.
Ms Kimani, who had just arrived from South Sudan where she runs a family business, was on Thursday morning found dead in the bathtub of her apartment. Her throat had been slit.
COMMUNICATED
Investigations show that the suspect and the deceased had communicated for long, and that they even planned to meet at the airport on her arrival.
Neighbours had reported to the police that on the day of the killing, two men, one dressed in a kanzu, had visited Ms Kimani at her apartment.
The neighbours alleged that the deceased and her visitors interacted in a manner suggesting that they knew one another, because she picked them from outside the apartment and even introduced them to her neighbours. It is not clear what time the two men left the apartment.
Ms Kimani's brother George Thiru said he discovered the body on Thursday after he failed to reach her on phone for days.
"When I went to her apartment, I knocked at the door but there was no response, so I decided to break the door. I found her in the bathtub, dead," Mr Thiru told the Nation.
Police officers who went to the apartment found two used wine glasses and a yellow shopping bag which contained the Ethiopian delicacy injera.
A dress she had ordered for her birthday, on October 10, her car keys and house keys were missing.
The main suspect, who is now at Kilimani Police Station cells, had during his marriage proposal to Ms Maribe identified himself as a security personnel working in the United Arab Emirates. Photos he shared on social media show him holding rifles clad in military gear.