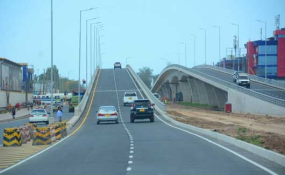 Photo: The Citizen
By Janeth Mesomapya
President John Magufuli has ordered the Tanzania National Roads Agency (TANROADS) to install CCTV cameras on the newly launched Mfugale Flyover at Tazara junction as soon as possible.
He gave the order shortly before inaugurating the overpass saying that the cameras will help tighten security as well as monitor accidents.
"We don't want people dying on this bridge for whatever reason, even by committing suicide," he explained.
He also added that the cameras nab those who break road rules and cause accidents and try to dodge their faults.
He also urged contractors in collaboration with other implementers of other flyover projects to consider putting cameras on upcoming projects. President Magufuli said the next flyover projects will be executed at Chang'ombe junction and Machinjioni areas, whose tenders have been announced.
"The Ubungo interchange that will cost billion 247, currently under construction, will have three levels," he added.