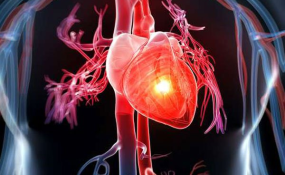 Photo: Daily Nation
By Odiri Uchenunu-Ibeh
As the world commemorates World Heart day today, a pediatric cardiologist with the Grays Cardiology has called on Nigerians to ensure that their heart is healthy, as there are more incidences of heart diseases in children than adults.
Cardiologist Emeka Ugwu, who disclosed this at a press conference in Lagos state, said world Heart day is commemorated every 29th of September, hence the need to create more awareness on the disease that is claiming the lives of thousands of Nigerian children annually.
Ugwu said pollution is one of the main triggers of heart problems in children. He said, "We are having more pollution leading to more incidences of heart diseases in children. But again conversely, we are fortunate that just as industrialization is growing up, things that can predispose people to anomalies are being addressed technologies.
"In Nigeria, we have between 70 to 80 million children, so we can say about 700, 000 to 800, 000 children in Nigeria would have heart problem, that is, congenital heart diseases they were born with. We know some risk factors that can predispose people to having congenital heart diseases but in most cases, you won't even know why it happened.
"We know that some infections, mostly viral infections that parents may have, especially mothers when they are pregnant may affect the child and then the child will have a structural heart problem. Another thing is, if there is a family history, maybe a child has been born in a family with that heart structural problem, it increases the risk of another child being born with it."
Also speaking at the event, the consultant cardiologist at Grays Cardiology, Dr. Kenneth Ochulor disclosed that common conditions that could lead to heart problem in an adult include high blood pressure, high sugar level, heavy alcohol intake, among others.
To avoid heart disease, Ochulor said cardiologists have found a way to prevent these conditions from becoming established and to address them early enough so that they don't damage the heart.
Speaking on the activities to mark the day, the Executive Director of the Kanu heart foundation, Onyebuchi Abia, stated that plans have been made to ensure that the commemoration of the World heart day is taken to different locations in Lagos state with the aim of enlightening people on issues pertaining to the heart.
Abia said, "As part of activities to commemorate the Word Heart day, the Grays cardiology centre, in partnership with Kanu Nwakwo heart foundation and other health institutions will organize a four-kilometre walk round, Ikeja.
"Themed "Make your heart a promise", the walk was aimed at ensuring that the heart is healthy and that blood flows to different parts of the heart."