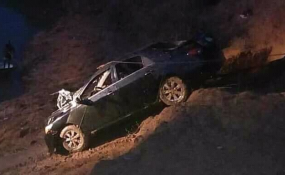 Photo: Daily Trust
By Lami Sadiq and Dickson S. Adams
Jos — One of the two vehicles recovered yesterday from the mining pond in Lafendeg, Du district of Jos South Local Government Area in Plateau State, where the vehicle of missing Maj.- Gen. Idris Alkali (rtd) was also recovered last week. Photo: Dickson S. Adama
The Nigerian Army yesterday recovered two vehicles from the old mining pond in Lafendeg, Du District of Plateau's Jos South Local Government Area where the Toyota Corolla car belonging to the missing Major-General Idris Alkali was recovered Saturday evening.
Alkali's vehicle was pulled out of the pond nine days after the joint task force constituted by the Chief of Army Staff, Major-General Tukur Buratai, commenced pumping water from the pond into an opposite one.
The third vehicle, a red saloon car with number Bauchi (AG 645 TRR), being removed yesterday at the mining pond in Lafendeg, Du District of Jos South Local Government Area in Plateau State
General Alkali who was the immediate past Chief of Administration at the Army Headquarters in Abuja, was declared missing on September 3 while on his way from Abuja to his farm in Bauchi. The General's mobile phone was tracked to Du and the Nigerian army said intelligence report had indicated that the retired senior military officer might have been killed and his vehicle dumped into the Du pond.
However, the army with the help of local divers yesterday recovered a Toyota bus with a Plateau Registration number RYM 307 XA which was pulled from the pond in the presence of Operation Safe Haven Commander, Major General Augustine Agundu, General Officer Commanding (GOC) 3 Division Nigeria Army Rukuba, Major General Benson Akinruluyo and journalists.
Also recovered from the pond was a red saloon car with registration number Bauchi (AG 645 TRR). The Deputy Director, Army Public Relations at the 3 Armoured Division, Col. Kayode Ogunsanya, confirmed this through Whatsapp.
Addressing newsmen, Agundu said the joint operation would pull out the remaining vehicles in the pond one after the other.
The commander said the possibility of finding other things in the pond could not be ruled out adding that, "there are probabilities that there are things under the water. The army under the directive of the Chief of Army Staff, Major General Tukur Buratai, is determined to uncover the mysteries in the pond and we would carry out the assignment effectively.
"There are no rumours, the local divers have informed us that there are other cars in the pond, and we would pull them all out.
Speaking also, the Major-General Benson Akinruluyo said though the army experienced technical challenges in the course of the operation, they had persevered and eventually made progress.
Akinruluyo called on the communities around the pond not to entertain fear of a military onslaught, saying the military would carry out its job professionally and according to best practices.
He however urged them to cooperate with security agencies and give the necessary information so that the perpetrators of the acts would be brought to justice.