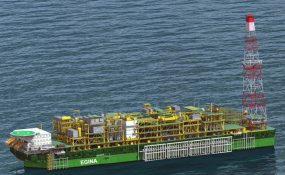 Photo: The Guardian Nigeria
The $3.3 billion Egina Floating Production Storage and Offloading vessel otherwise known as Egina FPSO is the first of its kind to enjoy the benefits of Nigerian content to such an appreciable level.
The vessel, conceptualised and built in South Korea, and integrated in Nigeria, to fulfil the Nigerian content requirement, has in the past few years crossed many hurdles that are unexpected of such milestone project that should bring Nigeria to limelight in terms of capacity and capability in vessel handling, engineering and welding space.
Egina's travails begun from the Senate's probe on cost variation to the threat of Nigerian Ports Authority (NPA) to bar it from entering Nigerian waters. The latest is the struggle between the partners that brought resources together to bring the dream of integrating the facility in Nigeria to reality.
The misunderstanding, which has lingered for weeks now has attracted another attention to the FPSO as uncertainties trail the final installation that would ensure oil productions from the $16 billion Egina oil field.
Specifically, the final installation on the vessel is currently delayed as a result of the lingering rift between LADOL and Samsung Heavy Industry Nigeria (SHIN).
The Lagos Deep Offshore Logistics (LADOL), concessionaire of the Takwa Bay Free Zone, had refused to renew Samsung's license, which it said expired on September 2, 2018, over allegations of fraudulent practices and violation of Nigerian local content laws.
It has also barred officials of Samsung from accessing the facility for about three weeks (from September 3 to 27).
The Egina FPSO, built by Samsung Heavy Industries of Korea for Egina oilfield is expected to add 200,000 barrels per day of crude oil to Nigeria's daily output when it comes on stream this December, but all indications showed that the output may be delayed.
Completion of work on the project had been delayed due to the misunderstanding between the parties.
Chief Operating Officer, Samsung Heavy , Frank Ejizu, confirmed yesterday that the "delay arising from the crisis will definitely affect schedule of oil productions from Egina."
He said, although the six topsides have been successfully integrated on the vessel, there are still more components that are needed to be installed offshore.
According to him, Samsung found it difficult to evacuate those components from its fabrication yard in Takwa Bay, because Ladol has denied them access for about three weeks.
"These issues have delayed completion than expected. Now, we have to employ more people and put in more money," he said.
Ladol had alleged that Samsung excluded it from the local content element of the contract, but Ejizu said: " Ladol was not excluded from participation, but failed to meet with their financial and contractual obligations... . Samsung did not push Ladol to take unreasonable financial burden for 80 per cent of share.
It was Ladol itself which insisted to take 80 per cent of share beyond its financial capacity."
Managing Director, Samsung Heavy Industry Nigeria (SHIN), Youg-Ho Jo, denied that Total paid Samsung for the upgrade of facilities.
He said Total did not make any investment in the yard, adding that Total's managing director was misinterpreted by Ladol.
He said the Total boss in a new letter dated 21 February.