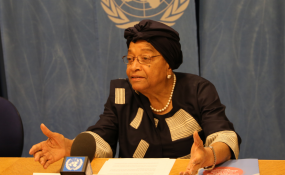 Photo: Peter Kenny for AllAfrica
By A. Omaska Jallah
Liberian President Dr. George Weah has indirectly descended on former President Ellen Johnson-Sirleaf for her recent comments regarding reports of missing billions of Liberian dollars.
Former President Sirleaf told the BBC recently that President Weah has put the reputation of the country at stake when it was reported that 16 billion Liberian dollars were missing.
The former president questioned the government understanding of Liberia's Gross Domestic Product (GDP).
But speaking Sunday at the Dominion Christian Fellowship during a Thanksgiving Service in his honor for his safe return from the United Nations General Assembly (UNGA) Sunday, Weah said it is unfortunate for someone to think that he is not aware of the GDP of the country.
President Weah said those who know the GDP could not electrify Doe-Community within 12 years of their administration.
According to him, he took over a broken economy without knowing the country's GDP, but he has succeeded in the reduction of salaries of government officials.
He said those who understand the GDP were paying government officials US$16,000.
The Liberian leader said those who have knowledge over the GDP could not connect Monrovia to Sass-Town in Grand Kru County with paved road.
President Weah indicated that knowing the GDP of a country is meaningless if such knowledge cannot help transform the lives of the people.
The President said it was sad for someone who was helped by others for 12 years to succeed could renege on helping others.
Speaking further, President Weah disclosed that he refused to affix his signature to the document which saw the printing of the first money while serving in the Liberian Senate as Senator.
The President said he believes at that time it was not necessary to print additional money when the country was heading for elections.
President Weah also said he did not sign the resolution which was seeking the printing of second batch of money.