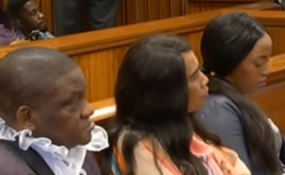 Photo: SABC News/YouTube
The trial of pastor Timothy Omotoso, who was arrested on April 20 last year on rape and human trafficking charges, got under way in the High Court in Port Elizabeth on Monday.
Omotoso enjoyed massive support during three occasions of applying for bail.
On Monday however, his support was drastically reduced to a small group of fewer than 100 supporters who were standing outside court.
His wife Taiwo and the inner circle of his church filled up Court A's public gallery.
Omotoso and his two co-accused, Zukiswa Sitho and Lusanda Sulani, are facing a total of 97 charges, with 63 as main charges and 34 as alternative charges.
The two women are charged with recruiting Omotoso's alleged victims.
Omotoso arrived in court dressed in black and gold, carrying a Bible in his right hand.
Judge Mandela Makaula is presiding over the case.
Source: News24