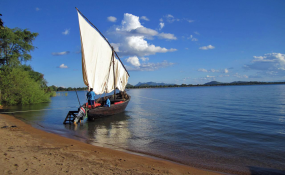 Photo: Kate Webb
By Aliko Munde
Nkhatabay — Two Indian brothers Sunday drowned on Lake Malawi in Nkhatabay after the boat which they were traveling in capsized due to strong winds.
Confirming the incident, Nkhatabay Police Spokesperson, Kondwani James said Dherya Patel 21, and Aushu Patel 19, drowned at Kande Beach on Sunday around 1 pm.
He said the two were sons of Mzuzu based businessman, Chetau Patel 45, who with his family went to Nkhatabay on Saturday to relax at the beach.
"On Sunday afternoon the two brothers went to swim into the lake using a boat. Unfortunately they faced strong waves which capsized the boat and they all drowned," James explained.
He said efforts to rescue them yielded no results.
"The two were immediately taken to Kande Health Centre where they were pronounced dead upon arrival," the Spokesperson added.
He said postmortem revealed that they both died due to suffocation.