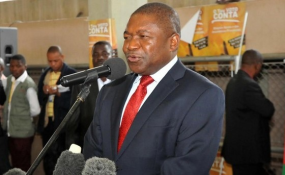 Photo: Angop
Maputo — Mozambican President Filipe Nyusi on Saturday officially launched the process to demilitarise the former rebel movement Renamo.
The demilitarisation covers the demobilisation and disarming of the Renamo militia, and integrating its members, either into the defence and security forces, or back into civilian life.
The Maputo ceremony was attended by government and Renamo representatives, and by the international facilitators requested by Mozambique. These experts come from Tanzania, Zimbabwe, the United States, Switzerland, Germany, Norway, Ireland and India, and will be coordinated by Argentinian general Javier Perez Aquino, who supervised the disarmament of the guerrillas of FARC (Revolutionary Armed Forces) in Colombia.
Nyusi asked all involved to do everything in their power to make the demilitarisation a success and to "solve definitively the problem of the Mozambicans".
He urged the Mozambican people and the international community to give their full support and thanked the interim coordinator of the Renamo Political Commission, Ossufo Momade, for his collaboration that made it possible to reach the Saturday ceremony, which follows a memorandum of understanding signed by the government and Renamo on 6 August.
But the ceremony came just two days after Momade himself issued threats to send Renamo armed men to the polling stations in next Wednesday's municipal elections to deter alleged fraud by the ruling Frelimo Party.
Momade's words were a chilling reminder that Renamo still has an armed forces and that to date the Renamo militia has not handed over any of its weapons.