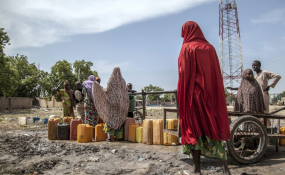 Photo: Premium Times
By Judd-Leonard Okafor
A family, displaced from their village in Mafa, arrive at the outskirts of Maiduguri. With little food or water, most of those displaced walk for more than three days to reach Maiduguri.
A new report on development focusing solely on the north east of Nigeria in the wake of the decade-long Boko Haram crisis has recommended prevention as a "penultimate weapon and antidote" against conflict, violence and humanitarian and development crisis.
It also calls for links between state and religion to be severed.
The National Humanitarian Development Report 2018, themed 'Achieving Human Development in North East Nigeria" notes the most effective way to deal with potential humanitarian and development crises is to "prevent them from occurring in the first place".
Launched by United Nations Development Programme and the Nigerian government, the report proposed that the root causes of the crisis should be addressed conclusively, rather than glossed over.
It recommends that "potential crisis triggers" and their root causes be tackled.
The "incessant and frequent farmers-herders conflict and associated violence and loss of lives in north central region of the country is one such "potential trigger" that should be conclusively addressed to halt any possible slide into a crisis situation, the report noted.
In addition, the report recommends a policy to delink state from religion and a bold encouragement of social justice on the basis of human equality rather than religious inclination or faith.
Almajiri.
It says the coupling of state and religion tends to play "right into the hands of the Boko Haram ideology that disparages Western education and blames it for all and any governmental shortcomings."
The report also calls for strengthening rule of law and promoting peace building.
"Abiding influence"
Overall, the report, focusing on Yobe, Adamawa and Borno, the three worst-affected states, underlies poverty, disenchantment as having playing into the historical and socio-cultural factors that facilitated the rise of Boko Haram.
Politics, religious ideology and governance deficit are also factors.
It cites the "abiding influence" of the Jihad associated with Usman Dan Fodio as a major factor accounting for the rise of Boko Haram.
Across the region, polygamous orientation of local populations led to phenomenal increase in population of especially young people that could not be properly catered for.
The huge population of idle and unemployed youth encouraged almajiri, which meant children are sent to distant places away from their biological parents in order to pursue Quranic education.
"This is a fodder that has partly fuelled the crisis, especially given that the almajiris live in extremely appalling conditions and hence spend their time begging for alms or else are readily available for recruitment into extremist organistions such as the Boko Haram," the report notes.
Old case
It is not the first time such recommendations have been made in attempts to get the humanitarian situation in the wake of the crisis under control.
But this is the first in three years it has been documented since international agencies began making similar recommendations.
Three years on, the report is expected to chart a new course.
"Three years ago, the insurgents controlled large parts of the north east; they don't anymore," the UN's Emergency Relief Coordinator Mark Lowcock told Daily Trust.
"Three years ago, eight million people were at the risk of famine; that's not the case anymore. There is a serious food security problem but it affects much small number of people.
Nearly two million people displaced have been able to go home. So we see progress in stabilizing the humanitarian situation. We also see a bad continuing situation but know because of the progress we have made, further progress is possible.
"We also know we need to address the underlying reasons why the insurgency was able to take hold, and that relates to the need to improve governance, provide opportunities, create jobs, provide education, health services and rebuild in the minds of the people of the north east the hope that the human spirit brings with it--the hope for a better future for themselves and their children."
Clear pathway for future
The report is intended as a document for debate, not a party manifesto, said Achim Steiner, the UNDP administrator, who has been alongside Lowcock on a visit to the Lake Chad Basin region.
Lowcock (second from right) and Steiner (next to Lowcock) visited projects and communities in the Lake Chad Basin on their joint mission trip.
It provides a "framework in planning what happens next," Steiner said.
"There are many who have a feeling that there is no clear pathway forward."
"Did we say similar things three years ago? Yes. In other countries, we did. In parts of our analysis, we did and that doesn't make them wrong. It just means people didn't listen closely enough, and the time has come to act on it," said Steiner.
Finance minister Zainab Ahmad said Nigeria would focus pledges it has received in response to the humanitarian crisis on rebuilding, rehabilitation and reconstruction.
More than $2billion in pledges was received at the Berlin Conference in September, weeks before the launch of the report.
"Progress is always uneven when you have problems of conflict and violent extremism, because for every step you take forward, there is a group that has an interest in precisely destroying that progress," said Steiner.
The leadership Nigeria takes in handling humanitarian response is what the international community will back, said Steiner.
"There is a challenge at the moment in the security dimension of the north east region. That is a challenge the government of Nigeria is trying to confront and the international community is also assisting the government of Nigeria.
"Our role is first, saving lives. The fact that there was not a famine, that was the result of coordinated, collective, rapid response by Nigerian authorities, international community, non-government ogranisations, and people did not die in their thousands. They suffered, they are still suffering but they did not die in their thousands."