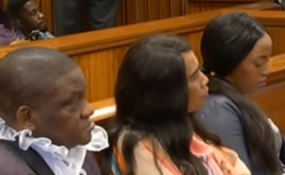 Photo: SABC News/YouTube
There was high drama at the Eastern Cape High Court in Port Elizabeth on Tuesday when two off-duty KwaZakhele police constables were kicked out after trying their luck with security officials.
The women tried to gain access to the proceedings of Nigerian pastor Timothy Omotoso.
According to information News24 obtained, the women arrived at court only to be told that the public gallery was full because the 50-person limit had already been exhausted.
After they produced SA Police Service (SAPS) IDs, they were allowed to enter.
But it wasn't long before the security officials reported them to Hawks chief investigator Peter Plaatjies.
SAPS spokesperson Priscilla Naidu said the incident occurred at 10:00.
"The two constables arrived at court earlier, produced their appointment certificates and informed the court security that they were there as 'protocol observers'. They were allowed into the court. However, the security reported the matter to the investigating officer, who approached the women and questioned them," said Naidu.
One of the women had to be forcefully removed following her refusal to vacate the court premises. Instead of leaving, she started violently shouting at the police officers who were called in to assist Plaatjies.
The other woman paced in apparent frustration as the chaos drew attention.
About five uniformed officials carried the one woman, who kicked and threw herself to the ground. The police officials let her go at the bottom of the stairs which lead to the main entrance of the court. Omotoso supporters waiting outside led the two women away from the entrance.
"The incident is being internally investigated by police," Naidu added.
A source told News24 that in the fracas, the women left documents behind.
Omotoso was arrested on April 20 last year on rape and human trafficking charges. He and his two co-accused, Zukiswa Sitho and Lusanda Sulani, face 97 charges, with 63 as main charges and 34 as alternative charges.
Source: News24