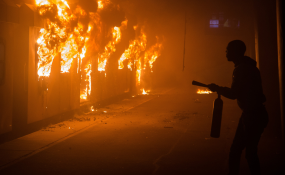 Photo: Ashraf Hendricks/GroundUp
Transport Minister Blade Nzimande says that efforts must be intensified to find the culprits behind train attacks, following yet another arson attack at Cape Town train station on Tuesday.
News of the attack broke as the Passenger Rail Agency of South Africa (Prasa) board was briefing the Portfolio Committee on Transport about the strategies in place to prevent such attacks.
Two trains with three carriages each on platforms 17 and 18 were set alight at Cape Town railway station.
A man is being questioned by police, but no one has been arrested or detained in connection with the incident, police spokesperson Lieutenant Colonel Andre Traut said.
"It is clear that there is actually a plan to attack this property of Prasa and that's undermining rail passenger transport," Nzimande said.
"We've been working with the minister of police but we are now of the view that we need to escalate this further to actually involve the entire security cluster."
'DA wants to exploit situation'
However, Nzimande does not support the idea of declaring a state of emergency over the troubles faced by rail services despite numerous calls to do so by the City of Cape Town.
"No, firstly I don't have such powers. Secondly, I don't think we need to declare a state of emergency, frankly. We just need to intensify intelligence and broad security work to be able to nail the culprits," he said.
Nzimande has previously criticised "posturing" by the DA in the province, which is part of a national task team consisting of all three spheres of government that was set up to deal with issues concerning Metrorail.
"This call by the DA is dishonest, opportunistic and political manoeuvring that seeks to exploit the dire situation confronting rail services in the Western Cape," Nzimande said.
Prasa board chairperson Khanyisile Kweyama suspects that Prasa is being sabotaged.
"There are disgruntled ex-managers who may be behind this because of how they were dealt with," she said.
Prior to the arson attack at Cape Town station, Prasa presented measures to deal with train attacks.
These include the installation of cameras and sensors to record suspicious activity, engagement with Crime Intelligence to determine potential threats and the escorting of "high-risk trains".
The Prasa board was grilled by portfolio committee members who said that the presentation lacked urgency and progress.
Kweyama found some of the criticism levelled against Prasa to be unfair.
"In terms of the rescue plan that we have put into place, there are short-term interventions which the CEO did report on. But I guess the proof is in the pudding," she said.
"The CEO referred to the suspension of the line in Umlazi. That was not imposed by the RSR (Rail Safety Regulator), it was Prasa who said there were problems, commuters are complaining every day. That was our own initiative, that is why I say it is unfair to say Prasa has done nothing."
Last week, Prasa was slapped with a notice of suspension by the RSR after two trains collided on October 4 near Van Riebeeck train station in Kempton Park during manual authorisation.
Prasa then approached the North Gauteng High Court to hold the matter over, saying it had not been given sufficient time to respond to the RSR's urgent application.
The case will be heard on Thursday.
Source: News24