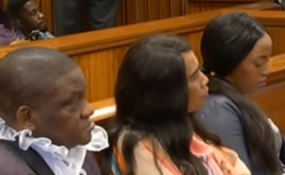 Photo: SABC News/YouTube
The first witness has taken the stand in the trial of pastor Timothy Omotoso in the Eastern Cape High Court in Port Elizabeth.
Cheryl Zondi, 22, who has granted permission to be identified, has accused the pastor of molesting her from the age of 14.
On Wednesday she detailed her first encounter with Omotoso.
She said she first met the televangelist at a church conference in Durban when she was a 13-year-old aspirant church choir member.
"We were a group of youth who were looking for a church to belong to. We were singers and wanted to find a home," said Zondi.
Zondi, who hails from Mpumalanga, said after their first encounter, she had an opportunity to go to a national church meeting in Halstead, Durban.
Mother wary of church
"I didn't have money at the time, but a couple who loved my singing sponsored my trip," she said.
She said her mother, Lindiwe Mahlangu, was not supportive of her involvement with Omotoso's church.
Zondi said she was excited and naively didn't consider her sleeping arrangements as she prepared for her Durban trip.
She told the court that Omotoso had called her regularly following their first meeting.
"I was so excited and told him that I'm coming to Durban and he asked me where I'd be staying.
"I told him that I didn't have accommodation. He said I could stay over at 'the house'."
She said while on her way to Durban, she received a call from "Fezeka", identified as one of the women in Omotoso's inner circle. Zondi said Fezeka gave her instructions on what she would do when she arrived in Durban.
"You will find a cab waiting for you at the station and it will bring you to the house, it is paid for," Fezeka allegedly said.
'He kept on asking if I had a boyfriend'
Zondi said there were several calls and text messages between herself and Omotoso subsequent to their first meeting.
"Throughout the calls he made to me, when he called, he kept on asking if I had a boyfriend, if I had a love life," said Zondi.
She said she was confused by his question.
"I was a young girl who didn't have a sex life, let alone manage one," she said.
"Yet he kept on asking me this question and this bothered me.
National Prosecuting Authority spokesperson Tshepo Ndwalaza commended Zondi on her testimony.
"She is a brilliant witness, she is accurate, confident and she has set the tone for this hearing.
"We are confident, as the State, that we are well on track and, hopefully, we will keep the momentum," said Ndwalaza.
The case continues.
Source: News24