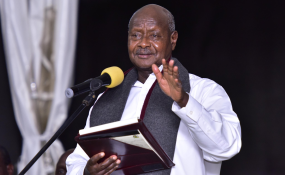 Photo: Yoweri K Museveni/Twitter
By Monitor Team
Kampala — President Museveni will today climb the dais in Kyotera District, the venue for the national celebration of Uganda's 56th Independence anniversary, to speak to a country where three in every four citizen is a youth.
Like in the past, he will likely read the speech off papers stacked in a yellow folder, and not by swiping across a tablet screen to roll text back-and-forth, which is the obsession of today's dot-com generation.
The President calls them bazzukulu or grandchildren, an appellation that supporters say is reverent but one that dissenters brand as patronising.
And this difference of opinion, alongside the contrast of a speech prepared and delivered in an analogue format to a generation that consumes information more online and on-the-go off electronic gadgets, is not the only gulf.
President Museveni will target a population, majority born during his rule, and with faint appreciation, if at all, of the significance of observing Independence Day. Neither do they understand the fights and sacrifices in the tasking struggle for self-government six decades ago.
In other words, they care less about Independence Day, which plays to them more as a ritual. And that, coupled with the mouthful theme for this year's observance; standing tall as we celebrate achievements of our 56 years of independence, present a problem on how to script an attention-arresting anniversary speech.
Mr Museveni's most important Independence Day speech was perhaps in 2012. It was the golden jubilee anniversary. He cruised into Kololo ceremonial grounds in an open-roof S500 Mercedes Benz limousine and outlined 10 key issues, he called them bottlenecks, which he said once tackled would propel Uganda to a middle income country by 2020 or a First World within 50 years.
That leap would require, by his account, fighting ideological dis-orientation, eliminating sectarianism, improving education to refine human resource, facilitating private sector-led economic growth, developing road, rail and electricity infrastructure, developing service sector to create jobs and deepening democracy.
Others were market expansion through regional integration, pursuing industrialisation for exports' value addition and modernise agriculture to increase household incomes.
A verdict of progress on these matters has revolved around, and polarised, based on political leanings.
Mr Museveni has routinely denominated his speeches at national functions to 1986, when he became President, and coloured it with self-praise, referring to earlier periods mostly to demonise past governments or dig into ethnic construct of ancient Uganda.
And what the President must speak about at today's independence fête, and without the risk of repeating himself during the 33rd such speech, prompted us to crowd-source public views on most concerning issues by asking: What key issues would you like President Museveni to address during the 56th independence anniversary celebrations?
Transition
The most dominant out of the 267 responses posted on Facebook within six hours was about the President considering to hang up his political boots, having ruled for almost a decade longer than the combined tenure of the seven presidents before him.
"Nothing; we just want him gone," wrote facebook user Olive Akwed.
Masereka Yonah posted: "He should just address one long overdue issue: leaving power for another able Ugandan."
Thomas Wanyume had other ideas and worries, likening the President to a parent who declines to let go of a grown up.
"Nyerere liberated TZ (Tanzania) but he left power to others, Nelson Mandela opted out when the nation loved him most. I'm afraid when Museveni goes, Uganda might turn into Libya," he posted.
"Stepping down. Stepping down. Stepping Down are three main key issues," according to another Facebook user, who identifies himself as Prince Peter Muboki Kolya.
The President, who has won five successive elections, two of which the Supreme Court ruled were fraught with irregularities, has previously said he is going nowhere.
Mr Museveni has argued in the past that he and family are sacrificing for Uganda he lifted up from the doldrums and elevated to a prosperous and respected country.
A constitutional presidential age cap, scrapped last December, means he remains eligible for re-election should he choose to stand. None of post-Indepenence Uganda leaders has handed over power peacefully.
Honouring true heroes
A section of Ugandans also expect the President to cut a statesman-like figure today, recognising and crediting the contribution of individuals who sacrificed and fought for Uganda to attain independence in 1962.
One of the ways of doing that, Adam Kainerugaba suggested, would be "renaming roads [after] our heroes and legends because most of them are named after colonialists."
The government has for years now been giving out medals to heroes and heroines, although the basis of awardees' selection remains opaque.
Human security
One teething problem facing the country is increased and unexplained killings across the country. Yet restoring human security has been an acclaimed achievement of the NRM government and the President summarises it as affording Ugandans the opportunity to sleep, contrasting the disturbances during previous regimes.
Patrick Wawayi posted that Mr Museveni must today address the "malicious killings in the country."
"The burning issue now in the country is the [in]security in the country and people are worried," noted Ambassador Harold Acemah, a former deputy head of mission at Uganda embassy in Brussels.
Shan Akamp Sseg, in answer to our question on what the President should address, responded: "Insecurity and why people are disappearing."
Jobs
The widespread unemployment, mostly of educated and young people, means many Ugandans cannot feed or clothe themselves in line with dignity that self-rule was expected to deliver.
There is impatience, manifested in growing political tension and sporadic outbreak of demonstrations, showing many have not tasted the fruits of independence or do not hope to.
We want the President to address bread and butter issues, wrote Martin Wanda, "not telling people history of revolutions, Obote, Amin etc."
"We want practical solutions to the problems of the day, not rhetoric like he does," he wrote.
Fighting graft
A number of respondents considered corruption as a cancer that has stymied Uganda's transformation to an equal and prosperous country, 52 years after the colonialists packed their bags and left.
Illegal self-enrichment by bureaucrats is the country's Achilles Heels and a Facebook user, who identifies herself as Dora Doreen, demanded that Mr Museveni apply full brakes on the vice.
"Corruption and failing to take public offices seriously by some Ugandans," she stated, is an issue that should be a priority in the President's speech today.
Political liberty
One aspiration of Ugandans at Independence, as captured by Milton Obote who received the instruments of power from the colonial masters, was individual liberty and citizens' determination of how they are governed. Mr Museveni's long-rule is increasingly being greeted with demonstrations that security forces brutally suppress.
Mr Swadik Angupale, an NRM supporter in Arua District, posted that the President should explain to Ugandans "how he can silence people power and bury it before 2021," a reference to the MP Robert Kyagulanyi, aka Bobi Wine-led political rallying. Emmanuel Ssemukoteka differed. "Internal security and tolerance of his security [apparati] to the critics of his government" is what he asked Mr Museveni to tackle today.