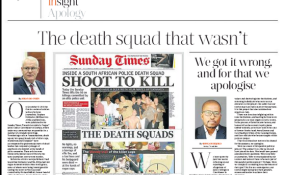 Photo: Sunday Times
The Hawks paid a visit to the Sunday Times' Johannesburg office on Tuesday but it is not yet clear what the visit was about or whether the publication is under investigation.
Editor Bongani Siqoko told News24 on Wednesday that the unit - which usually probes high-profile crimes - contacted him last week and requested a meeting.
He asked that the meeting be held at his offices. Siqoko pointed out that the meeting was not a "raid" and that it was his decision to have it at his office. It could have taken place anywhere else, he said.
Siqoko would not say what the meeting was about.
When asked, he denied that he was questioned in connection with the newspaper's reporting on the SA Revenue Services' (SARS) so-called "rogue unit".
The newspaper previously apologised for its reporting on the unit, but there have been calls for it to account for its role in the SARS saga since the start of the Zondo commission of inquiry into state capture.
Hawks spokesperson Brigadier Hangwani Mulaudzi refused to say whether or not the Hawks were investigating the Sunday Times, but said they were "following up on information".
He would not comment any further.
News24