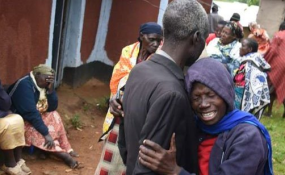 Photo: Isaac Wale/Nation
By Benson Amadala
Mulwanda Village in Kakamega County was plunged into mourning after six members of a family died in the bus crash at Fort Ternan, Kericho County on Wednesday.
Neighbours and friends trooped to the home of Mr Joseph Munala Lomeni in silence but were met with laud wails of relatives who had just learnt of the death of his son, daughter in-law, and two grandchildren -- a boy and a girl, aged five and two respectively.
The four were among 55 people who died when the Home Boys bus operated by Western Cross Roads Sacco crashed early Wednesday morning. They were heading to their rural home to attend the burial of their grandmother.
Two other relatives who had accompanied them also died.
Mr Lomeni and his wife, Elminah, were overcome with emotion after they received news of the accident from their daughter, Ms Jersuha Lomeni who sustained multiple fractures on her limps.
Ms Jerusha is among the survivors of the crash and preparations were being made to transfer her to Moi Teaching and Referral Hospital for specialised treatment.
"We are in great shock and do not know what to do. My son, his wife and children are all dead. My son had earlier said he would be travelling home with his family to attend the burial of their grandmother but the journey was cut short by the grisly crash," said Mr Lomeni.
Mr Lomeni's wife was inconsolable after his eldest son Mr Timothy, who travelled to Kericho accompanied by other relatives, confirmed their worst fears after visiting the morgue.
"What has happened is terrible. We have lost six family members in the accident. This is a big blow to our family," said Mr Timothy, who spoke to the Nation on phone.
Mzee Lomeni appealed for help from the county government to transport bodies of his son and other family members home for burial.
"We were preparing for the burial of their grandmother but misfortune has struck the family and now we have to plan for the burial of my son and five other family members," said Mr Lomeni.