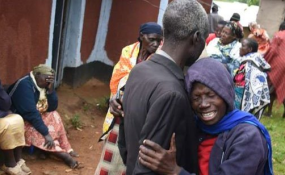 Photo: Isaac Wale/Nation
By John Namkwahe
Dar es Salaam — President John Magufuli has sent condolences to Kenya's President Uhuru Kenyatta following a bus accident that occurred at Kericho, in Kenya and claimed lives of over 50 people and left many injured.
Dr Magufuli issued the solemn condolences to his counterpart through his twitter account (@MagufuliJP) on Wednesday, October 10, 2018.
"I wish the accident survivors the quick recovery. May God rest their souls in eternal peace, Amen," President Magufuli wrote.
This follows reports that, at least 50 people were killed when their bus veered off the road, rolled down a slope and crashed in western Kenya, with the roof of the bus ripped off.
The accident occurred around 4 a.m and seven children were among the dead.
Around 15 survivors from the bus that was headed from the capital, Nairobi, to the western town of Kakamega were receiving treatment at a hospital in Kericho.
Following the tragedy, the President also sent his condolences message to all Kenyans and the bereaved families who lost their relatives in the car tragedy.