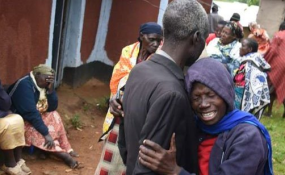 Photo: Isaac Wale/Nation
By Maureen Kakah
The United Nations Secretary General António Guterres has joined the list of leaders who have sent out their condolence messages to families of those bereaved by the tragic accident at Fort Ternan in Kericho County.
In a statement released by his spokesman Mr Stephane Dujarric, the UN Secretary General said that he is deeply saddened by the accident which claimed the lives of 55 people on wee hours of the dawn on Wednesday on the Londiani-Muhoroni road.
"The Secretary-General extends his heartfelt condolences and deepest sympathy to the bereaved families, the survivors and the government and people of Kenya," Mr Dujarric said.
The fatal morning crash happened at 4.30am. Rescuers counted up to 48 bodies from the scene while several others who were critically injured have since been hospitalised.
By Wednesday evening, police in Kakamega had arrested Mr Cleophas Toto Shimanyula and Mr Benard Ishindu Shitiabayi, who are the owners of the bus which was ferrying passengers from Nairobi.
The duo were arrested for questioning and are expected to be transferred to Londiani.
Police also impounded vehicles belonging to Western Cross Roads Sacco which the ill-fated bus belonged to.
According to the National Transport and Safety Authority Director General Francis Meja, the owners of the bus will face prosecution since the vehicle was not licensed to operate at night.
Kenya Red Cross Society has set up an information desk at the Kericho County Referral Hospital to help relatives check whether their kin had survived the horror crash.