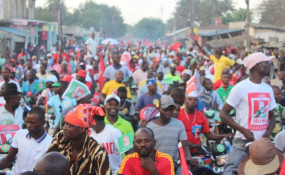 Photo: Frelimo official page
Maputo — Preliminary results from Wednesday's municipal elections indicate that Mozambique's ruling Frelimo Party has won in most of the municipalities.
The main loser in the elections is the Mozambique Democratic Movement (MDM), which lost the city of Quelimane to the main opposition party, the former rebel movement Renamo, and lost the town of Gurue to Frelimo by a slim margin. However, the MDM, and its leader, Daviz Simango, seems to have held onto the jewel in their crown, the central city of Beira.
Renamo has consolidated its hold on the northern city of Nampula, which it first won in a by-election in March. The current indications are that it has also taken the town of Alto Molocue, in the central province of Zambezia, from Frelimo. Renamo has certainly displaced the MDM as the main opposition in most Frelimo-held municipalities. This is a natural result of the fact that Renamo boycotted the 2013 municipal election, which meant that in that year the entire opposition vote was concentrated on the MDM.
The preliminary results announced by the Electoral Administration Technical Secretariat (STAE), and published by the independent television station STV, include the following:
Niassa province Lichinga (17 per cent of votes processed) Frelimo: 19,509 Renamo: 13,866 MDM: 965
Metangula (100 per cent of votes processed) Frelimo: 5,028 Renamo: 2,643 MDM: 117
Mandimba (100 per cent of votes processed) Frelimo: 4,318 Renamo: 2,938 MDM: 267
Marrupa (86 per cent of votes processed) Frelimo: 3,052 Renamo: 855 MDM: 400
Zambezia province Quelimane (17 per cent of votes processed) Renamo: 7,497 Frelimo: 6,008 MDM: 673
Alto Molocue (92 per cent of votes processed) Renamo: 8,324 Frelimo: 7,222 MDM: 885
Gurue (92 per cent of votes processed) Frelimo: 12,507 MDM: 10,601 Renamo: 1,200
Milange (100 per cent of votes processed) Frelimo: 8,716 Renamo: 6,204 MDM: 402
Maganja da Costa (100 per cent of votes processed) Frelimo: 5,730 Renamo: 4,526 MDM: 606
Tete province (70 per cent of votes processed) Ulongue Frelimo: 4,206 Renamo: 2,806 MDM: 253
Nhamayabue (100 per cent of votes processed) Frelimo: 4,403 Renamo: 1,817 MDM: 159
Manica province Chimoio (25 per cent of votes processed) Frelimo: 12,117 Renamo: 11,632 MDM: 669
Sofala province Gorongosa (100 per cent of votes processed) Frelimo: 8,470 Renamo: 2,411 MDM: 857
Maputo province: Matola (11 per cent of votes processed) Frelimo: 17,322 Renamo: 16,150 MDM: 1,495
Namaacha (100 per cent of votes processed) Frelimo: 4,813 Renamo: 599 MDM: 221
Boane (25 per cent of votes processed) Frelimo: 4,333 Renamo: 1,030 MDM: 343
Manhica (39 per cent of votes processed) Frelimo: 7,654 Renamo: 2,469 MDM: 1,004